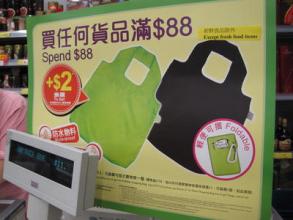 Sustainability Ideas from Hong Kong
Vinnie Yuen
During the Olympics, I took a two-week vacation to Hong Kong where I spent the first 8 years of my life.  The city is absolutely beautiful, but it was also intensely populated.  As I contemplate the sheer volume of people living there (7 million!), I wondered what steps this city was taking to eliminate waste and reduce pollution.  I was happy to find out that Hong Kong is taking steps towards greener living!
Hong Kong - Public Transportation that Works
Aside from the tall skyscrapers and the intense bustle of activity, one of the most astonishing things about Hong Kong is its extensive transportation system that reaches what seems to be every corner of the city. 
 One distinct feature that links all of Hong Kong's modes of transportation is the Octopus Card. The Octopus Card acts like a debit card. The card is $50 HKD (under $7 CND) and you can get this deposit back 3 months after purchase of the card. After you deposit money into the card, you can use the card whenever you get on public transportation, be it a bus, a ferry, the MTR (or subway as North Americans call it), or a mini-bus. 
 The Octopus Card is a smart-card and does not require swiping – you can simply hold up it up to a card-reader with the card still in your wallet. The card-reader makes a beep-like sound, and shows how much is deducted from your card as well as the balance left on your card. Not only does it work on all public transportation, its usage has spread to convenience stores like 7-11, fast food stores like McDonald's, and local grocery stores like Park N' Shop and Wellcome. 
 This ingenious system provides convenience, solves problems of fare evasion, eliminates the need for exact change, and eliminates paper wastage from printing tickets or transfers. The card's convenience and universality makes it a ridiculous choice not to have one. Furthermore, the Octopus Card company often have special promotions, in which using the card would give the cardholder benefits and incentives. For example, if you use your Octopus card to pay for meals at a participating restaurant a specified number of times, you can receive $10 off your next meal. MTR (subway) fares are also cheaper if you use your Octopus Card.
 You can add value to your Octopus Card at most convenience stores, any MTR (subway) station, or automaticallyhave a pre-arranged dollar amount transferred from your bank account to your card every month. The convenience of this payment method is absolutely astonishing.
 The Octopus Card is just one great feature of the Hong Kong public transportation system. Its fares are all determined by distance instead of by zone, with fares ranging from as little as $2 (under $0.30 CND) up to $100 (about $13 CND) for express MTR (subway) trips to the airport. Turnstiles are installed at every MTR station, so fare-evasion is rarely an issue. There are also customer service booths at every station, where an employee is present at all times to answer questions. 
 Buses are usually double-decker and air-conditioned, offering comfort and more seats for commuters. Some are even equipped with televisions, though they mostly play advertisements. Bus fares, too, are by distance.  Mini-buses seat 16 passengers, and are usually for shorter trips. Again, fare-evasion is almost non-existent. During my entire 2 weeks in Hong Kong, I never once saw someone try to convince the driver to let them ride the bus for free, yet in Vancouver, it seems like a regular occurrence.
 With such a multitude of convenient transportation methods, there are always a variety of ways to get to your destination. A car is simply not needed in a city where you can travel to your destination just as fast, if not faster with public transit. In fact, most of the cars on the roads in Hong Kong are taxis, and very few families own vehicles.
 If North American cities can adopt similar transportation systems, citizens would likely choose to use public transportation rather than taking their cars, which would be a step towards greener cities.
Hong Kong is One Step Ahead in Eliminating Plastic Bags
Before I jetted off to visit Hong Kong, my mother reminded me to bring some reusable tote bags on my trip. The reason? Hong Kong grocery stores no longer provide plastic bags free of charge – they now cost $0.50 each. I wondered if this policy has worked in reducing plastic bag usage, or will people simply be willing to shell out extra change for plastic bags?
 When I visited the supermarket there, I realized that this policy worked fantastically. Reusable tote bags were being used by everyone! For the 20 minutes I was in the store, I did not see anyone walk out with a plastic bag. With a population of 7 million, I can't help but imagine how much waste has been eliminated when the government passed this policy in July 2009.
 Not only are retailers putting a ban on free plastic bags, they are encouraging the use of reusable tote bags with marketing schemes and promotions. At the local supermarket chain Park N' Shop, you could add $2 (approximately $0.27 CND) with any purchase over $88 (approximately $12 CND) and get a reusable tote bag that can fold up into a small package the size of a deck of cards – making it convenient to bring with you when you go out. My sister, who currently lives in Hong Kong for work, immediately asked me to take advantage of this promotion next time I buy groceries at the supermarket. 
 Environmentally friendly options do not have to costly, nor do they have to be difficult! In fact, businesses can even profit from being more green, especially with clever marketing that benefit both the business and the consumer. I was truly impressed with the cooperation and willingness of Hong Kong citizens to live a more sustainable lifestyle by eliminating plastic bags.
___________________________________________