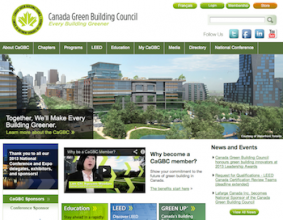 Highlights - CAGBC 2013
Canadian Green Building Council (CaGBC) brings the green building industry experts together to "Lead and accelerate the transformation to high-performing, healthy green buildings, homes and communities throughout Canada".
 
This year's conference was themed: "Building Lasting Change" and featured such high profile keynote speakers as Robert F. Kennedy Jr. and Jeb Brugmann.
 
President and CEO Thomas Meuller welcomed attendees to the conference noting a number of key partnerships including the UBC School of Architecture and Landscape Architecture (SALA) and a new relationship with SAB Magazine.
 
The conference boasted 5 different streams of learning for attendees:
•   Stream 1 LEED in Canada: 10 Years of Innovation
•   Stream 2 Future Green: Neighbourhoods and Cities
•   Stream 3 Leading the Way: Green Commercial Real Estate
•   Stream 4 Next Generation of Products and Materials
•   Stream 5 Pushing the Boundaries: Net Positive Buildings (SB13)
•   and the Master Speaker Series which built on other themes from the conference.
 
Speaking to a number of attendees at the conference the writer was encouraged to hear the evidence of substantial industry advancement in thinking over the last 5 years noting the comment from one attendee that "this is not a short term trend" which resonates with the much deeper, more profound global change that is sweeping the planet.
 
 "we are undergoing a massive Tsunami of change that is sweeping the planet"
Attending the session on "Net Positive Design" by Raymond J. Cole, Professor and Past-director, School of Architecture and Landscape Architecture, University of British Columbia
 
Professor Cole spoke about a Paradigm shift in thinking, asking us to all "imagine what we can do differently" and to not only see the relationship that exists between human and natural systems but to explore the inextricable relationship between both.
 
Professor Cole described how changing our language actually helps us better articulate new ways of thinking and designing buildings with a regenerative design model. He liberally uses words like; improves, connects, enhances, and generates and suggested the ultimate measure of success in building design being "will it do more tomorrow than it did today" ?
 
Degenerative
Sustainable
Regenerative
Depletive Design Models
Net Zero Design
Net Positive Design
Characterized by buildings that consume resources.
Characterized by buildings that with respect to "energy" make as much energy as they consume.
Characterized by buildings that actually improve the environments around them.
 
In effect acting like a living organism. For more info on the subject see: http://living-future.org/lbc
 
While not officially a part of the conference there were multiple references by a number of attendees to the teachings of Janine Benyus and the principles of Biomimicry. The Biomimicry Intitute and the Biomimicry Guild maintains a tremendous resource www.AskNature.org a database of information  chances are nature has already solved it in some capacity having billions of years to perfect her systems.
 
2013 CAGBC TRADE EXPO
Phillips – the only light bulbs in their entire booth were highly efficient LED's.
 
Benjamin Moore Community Restoration Program which offers cash grants (up to $4,000) and paint (up to $750 retail value) to support registered charities with heritage restoration projects in Canada. This program and a number of other heritage related grants can be found on the Heritage Canada website at: http://www.heritagecanada.org/en/resources/find-funding
 
Eaton was there showing off their in-home car charging station that can be used with any make or model electric or plug-in electric hybrid vehicle.  See how the charging station works with the Mitsubishi i-MiEV in the Harmony House series: www.harmonyhouse.ca
 
Cree Buildings another company featured on Sustainability Television can be seen in the article on the Live Cycle Tower (an 8 story wood frame building in Austria)
https://www.sustainabilitytelevision.com/news/lifecycle-tower
 
Other new and innovative materials at the show included:
 
Luxxul another Austrian company that is producing mixed bag natural building products that are both water and frost resistant and made of breathable loam materials that require no firing.  The company's suggested use for the products include; plasters, loose fill insulations, building / hybrid / and thermal building blocks, noise barriers, slabs, paving tiles, and tiles. For more information visit: www.luxxul.com
 
Even some of the big name companies like Kimberly Clark are getting into using natural renewable materials other than trees in various types of paper, and Dyson Canada, makers of the Dyson Airblade have come out with a very interesting hands free commercial faucet that includes the hand dryer right at the sink, making your hand washing experience both hygienic and environmentally friendly. See link for more details: http://www.dysonairblade.ca/hand-dryers/airblade-tap/airblade-tap.aspx
 
Landon Gardner and the SEDA (Sustainable Engineering Design Audit) team were onsite explaining how the SEDAScore rating system gives a quick breakdown of how well an organization has implemented sustainability and allows for quick comparisons between companies.  For more information on this university led initiative see: www.sedascore.ca
 
Another well known Vancouver building organization, the Lighthouse Building Centre is developing the Ecospex Tool; a construction material information portal to help facilitate choosing more environmentally healthy building materials. The site has yet to launch but is said to include 1100+ products and comes with a fee for companies to have their products reviewed and added to the site, but will be a free resource for designers, builders, architects, and the public at large. www.ecospex.com
 
Stay tuned for exciting updates to this article…