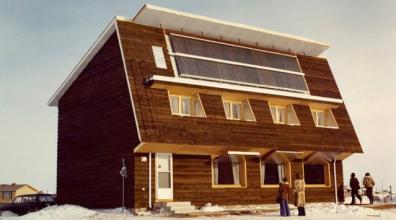 The following blog post is part two of a series documenting the history of energy-efficient houses in Saskatchewan.Read the second blog post.
In the 1970s, the Organization of Petroleum Exporting Countries (OPEC) raised the price of crude oil, creating an energy crisis that presented multiple challenges for non-OPEC countries, including Canada. This spiked the cost of energy bills for homeowners, as oil was a conventional source for heating homes. At the time, it was anticipated that annual gas bills for older homes would triple in cost over a decade.1
SASKATCHEWAN'S FIRST ENERGY-EFFICIENT HOUSE
As a result, Saskatchewan residents were looking for ways to reduce energy costs for their homes. In response, the Government of Saskatchewan called on the SRC to project manage the development of an energy conservation demonstration home, called the Saskatchewan Conservation House. The project included researching cost-effective methods for reducing energy use that homeowners could reasonably afford. 
The home also served as a focal point and source of information for anyone in Saskatchewan – either private homeowners or contractors – who wished to incorporate energy-efficient concepts in their homes and buildings. It was opened to the public for tours in 1977 and attracted attention from around the world.
As lead researcher and project manager, SRC brought several organizations and associations together to collaborate on the Saskatchewan Conservation House:
University of Saskatchewan (College of Engineering) – Research Assistance
University of Regina (Faculty of Engineering) – Research Assistance
National Research Council (Division of Building Research) – Research Assistance
Housing and Urban Development Association of Canada – Research Assistance
Grolle Architect and Engineering Ltd. – Architecture and Design
Saskatchewan Department of Mineral Resources – Development
Saskatchewan Housing Corporation – Development
RESEARCHING AND DEMONSTRATING ENERGY-EFFICIENT BUILDING FEATURES
Prior to working on the Saskatchewan Conservation House, SRC had worked on monitoring, investigating and optimizing building systems to be more energy efficient. 
During the development of the Conservation House, SRC's role included researching and validating the effectiveness of novel construction practices that were incorporated into the house and to determine whether these modifications improved the home's energy efficiency. This was done by providing guidance and oversight of the home's construction, such as specifying the thickness of walls, type of insulation used (including in the walls, floors, ceiling and attic), the type of windows installed and then monitoring the home after it was built to ensure it was airtight to prevent heat loss. 
For the next 30 years, SRC studied the effects of high levels of insulation, airtight buildings, high-efficiency systems and appliances, as well as innovative features to reduce the environmental impacts of typical modern homes. 
WHAT HAPPENED WITH THE ENERGY CRISIS?
In the early 1980s, trends demonstrated that oil prices were stabilizing at the same time the average rate of inflation was significantly diminishing. The direct economic pressures that caused people to adopt energy conservation measures were decreasing and any aspect of a rapid payback on capital investment was removed. By this time, those who were strongly motivated to conserve energy had already done so. Because of these factors, federal and provincial governments discontinued support for residential energy conservation programs.
However, building systems continued to improve in the years following the Saskatchewan Conservation House. Testing, monitoring and validating the efficiency of new systems was still relevant and necessary.
In the next blog post in this series, we'll dive into the research behind the Conservation House and four other demonstration houses, as well as how the research has impacted energy-efficient building standards today. 
References
Eyre, How to Make Your Existing House More Energy Efficient, 1980, pg. 1