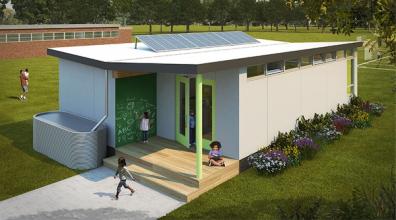 The greenest classroom in the school is a strawbale portable!
Green builder and award-winning architect create a healthy and attractive portable classroom
Evolve Builders and Workshop Architecture have teamed up to produce the greenest classroom: mobEE Mariposa – a strawbale eco-portable classroom that is healthy and attractive.
During an international trade mission for Canadian environmental companies in 2014, Ben Polley (Co-founder, Evolve Builders) and Helena Grdadolnik (Director, Workshop Architecture) met and discussed the idea of working together to develop and improve upon Evolves eco-portable product. The collaboration has benefitted from a combination of Evolve's experience in strawbale construction and Workshop Architectures expertise designing innovative schools, as well as the two companies' shared interest in using sustainable materials and systems.
Evolve built its first strawbale portable, named mobEE – or mobile eco enclosure, near Guelph working with the Upper Grand District School Board back in 2011. According to Paul Scinocca, Operations Officer at the school board, "the mobEE portable really helped ignite the class's passion for the environment." Meghan Mintz, a Grade 6 Teacher who used the portable, says "Parents and School Board officials are impressed every time they visit. We've even had local politicians come to see it." She adds, "In the winter it is absolutely cozy, in three years I don't think we have ever had to turn on the supplemental baseboard heaters."
Despite the success to date with the original model—Evolve's latest mobEE portable units have been shipped to Northern California and another is currently under construction for the Ottawa-Carleton District School Board—Evolve felt they could do more. With a product that looked like a standard portable but with better air quality, excellent acoustic performance, low maintenance and improved energy efficiency already successfully deployed, Evolve wanted to take this further. Ben Polley explains, "At Evolve, our goal was to create a premium product that made an aesthetically-pleasing space, with maximized natural light and air, which would still be cost-effective for schools."
Through assistance from an Industrial Research Assistance Program grant, Workshop Architecture were able to respond to Evolve's challenge. Workshop applied their experience designing education spaces to make a portable model that may become the most desirable classroom in the entire school. Architect David Colussi explains, "The portable has long been the poor cousin to the main school building, but with its location in the school yard and four exterior walls, it has the opportunity for excellent connections to the outdoors. In our design we made use of double glass doors and operable clerestory windows on two sides to maximize natural light and air while also freeing the walls to be used for teaching—creating a flexible, multi-directional classroom with opportunities for a variety of teaching methods." Another improvement the designers made was using the depth of the strawbale walls to make a window seat that could be a place for informal learning for individuals or pairs of students. At the entrance, the glass doors open onto a covered porch—complete with a chalkboard wall—to make a space that can support outdoor lessons.
The designers took advantage of the strawbale construction to significantly lower the standard portable height difference between the ground and the interior floor. Currently portables have an Ontario Building Code exemption for meeting accessibility requirements but, as many school boards are moving to policies that exceed minimum accessibility rules, the lower floor height of mobEE Mariposa makes incorporating an accessible ramp more viable than the standard portable options.
Portable/modular classrooms are a $2 billion per year industry in North America with approximately 350,000 classrooms built. These figures indicate there is a large market for portables in North America, but it also means there are millions of students that will be learning in these spaces and they deserve a comfortable classroom with good air quality. Portables have a negative reputation due to poor energy performance and low-quality interior environments for standard models, as well as mould and other issues in the past. For this reason Evolve Builders anticipates a large market for a healthy, design-forward premium product—mobEE Mariposa: the greenest classroom in the school that will be welcomed by teachers, students and parents.
The new eco-portable model was unveiled by Ben Polley at the Ontario Association of School Board Officials conference in July where it garnered a lot of interest from the facility and construction managers in attendance. Orders are currently being discussed and the first new model may be built as early as next summer for the start of the 2016 school year!
For more info on mobEE Mariposa, interviews or high res images contact:
Helena Grdadolnik, helena [at] workshoparchitecture [dot] ca or mobile: 647-992-2622
Ben Polley, ben [at] evolvebuilders [dot] ca or mobile: 519-242-4681
Workshop Architecture is a full service architectural practice that was estab­lished in 2010. The firm was named the 2013 Ontario Association of Architects' Best Emerging Practice and received a 2013 Toronto Urban Design Award of Merit for the Green Line Vision. Workshop Architecture was founded by David Colussi and Helena Grdadolnik. David is an architect and LEED Accredited Professional who has 15+ years' experience with community and commercial buildings and an interest in sustainable construction and design for education. Helena Grdadolnik, has 15 years of experience in architecture and urban design with an interest in the relationship between buildings and public space and expertise in arts buildings and cultural planning. www.workshoparchitecture.ca
Evolve Builders Group Inc is an award winning, innovative boutique green building firm regularly sought out by academic, government and industry partners to help bring great new ideas to market. Evolve designed and built the first prefabricated strawbale house in North America (2003), was a core contributor to the CMHC's greywater-ready standards for new construction (2012) and facilitated a pre-commercialization pilot study of household greywater recycling devices for multinational plumbing fittings manufacturer CanPlas (2013).
mobEE modular classrooms are prefabricated by Evolve Builders near Durham, ON, Canada for delivery across North America.
http://mobee.evolvebuilders.ca
www.facebook.com/mobee.eco.enclosures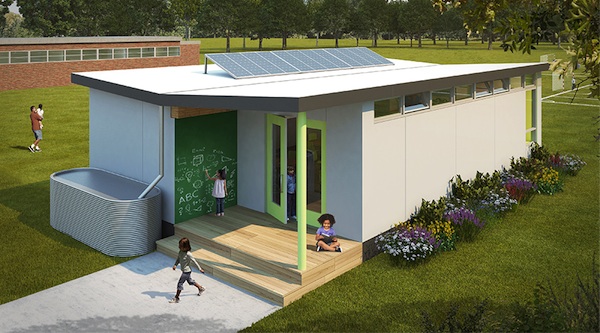 mobEE Mariposa strawbale eco-portable classroom – exterior view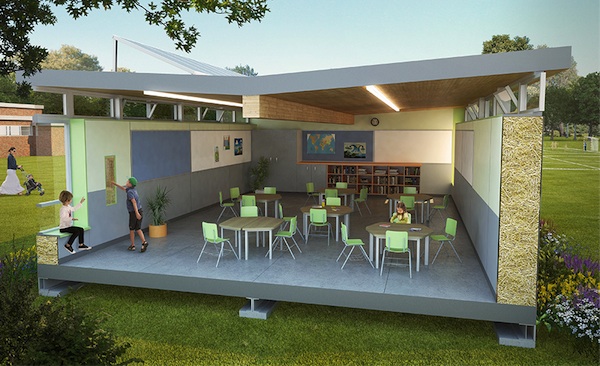 mobEE Mariposa strawbale eco-portable classroom – interior view