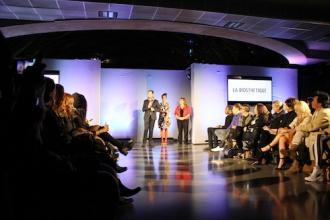 FALL FASHION IN VANCOUVER
ECO FASHION-WEEK
"Quite possibly the best fashion show I've been to, and I learned so much about fashion design!" – is how one attendee described Vancouver's 7th Eco Fashion-Week. The twice a year event kicked off the fall shows with the Eco Fashion-Week Seminars ecofashion-week.com/seminars.html a free educational series for fashion industry members and the general public. Eco Fashion-Week organizer Myriam Laroche describes the intention of the seminars being to "provide information and learning opportunities, and to create discussion around sustainable fashion practices, with the objective of increasing the level of sustainability in the fashion industry".  Speakers included representatives from Stefan Schlosser from Bluesign Technologies, Amy Roberts the Director of Sustainability for Mountain Equipment Co-op, Dr. Jean-Pierre Haug the Secretary General for OEKO-TEX®, Myriam Laroche the Founder of Eco Fashion Week, Tara Teng, Miss World Canada 2012, and Esme Smith of People Footwear.
Carol Kordich, Leader Sustainable Materials, Ford Motor Company delivered a passionate dialogue around Ford's initiative to have a minimum of 25%, and in some cases as much as 100%, recycled materials used in the interior fabric of Ford vehicles worldwide: sustainabilitytelevision.com/video/ford-ecofashion-week-seminer
Eco Fashion-week attendees were welcomed by a number of local sustainable company representatives including; Paul Neil, Regional Manager Franchise Support for Noodle Box who was serving attendees samples of the "spicy peanut noodle box" – incredible!  Speaking about the company's sustainability mandate Paul said, "the biggest thing is that people deserve better than what the marketplace currently offers – from the interactions with staff, to more sustainable food choices, and really the whole customer experience" Paul went on to say "we source our free range chicken from Rossdown Farms in Abbotsford and see each location with its own unique attributes, sourcing products from the local community wherever possible – we're the anti-chain chain! noodlebox.net
 
Stephanie Sutherland from Black 2 Blond an academy working with the La Biosthetique cosmetic line (labiosthetique.com) described the training she received at Black 2 Blond as "extensive, we get training on the whole product line.  I love working with La Biosthetique, its easy to use, has all natural ingredients, and they come out with new stuff every few months".   Stephanie went on to say "one of the things I really like about La Biosthetique is that its a family owned business – they're very open about everything – they believe in the right of the consumer to know what's in their [cosmetic] products, it feels silky not cakey, it looks good, and even smells good too – here smell it" black2blond.ca/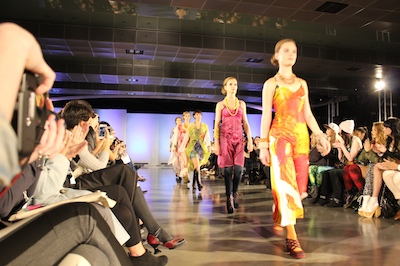 The tagline for Wendy Van Riesen's clothing at Dahlia Drive is "resurrecting the fashion from wasteland".  Wendy's business does just that; she uses old curtain sheets for the material in her creations and has a unique process for transferring patterns. First the patterns are painted onto paper, and then they are transferred from paper onto the curtain fabric, making each piece absolutely unique.
Wendy says "many of my clients appreciate the fact that every piece of clothing has a story behind it, making each piece really like wearing a piece of art". dahliadrive.com
Eco Fashion-Week 2013 wrapped up the week long event with its exclusive Holt Renfrew reception for sponsors and organizers.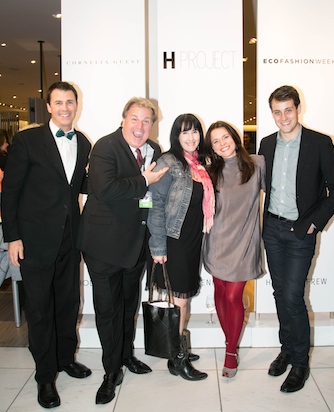 Pictured above: from left Jason Robinson (Founder & CEO Sustainability Television) Jim Michaels (Producer/ Director for Warner Brothers Television, Supernatural), Myriam Laroche (Founder of Eco Fashion-Week) is in-between Tania Parisella & Sean Elbe (both of Vancouver Economic Commission). Photo by: Photoshepherd.ca
THE TIMELESSLY BEAUTIFUL - BEAUTY FASHION & ART AGAINST AGEISM
Vernard Goud of LuvnGrace has recently been on a mission to "celebrate the beauty of women of all ages--not just the young". The Timeless Beautiful – Beauty, Fashion, and Art against Ageism evening was held October 12th at Vancouver's stunning Waterfall Building where LuvnGrace presented its 4th installment of the so-called "Ageless Beauty" theme alongside co-lead sponsors Aiona Alive and Red Carpet by Taaja. Attendees were visually spoiled with 3 "Ageless Beauty" Fashion shows consisting of designers Drama Queen, Maggy Fu Fashion and Couture Therapy.  Artist Yves Decary had a mini exhibit of his art displayed as well as a Live Art Performance. The music for this evening was provided by Mercury Talent Owner Christopher Mark Steffler, and hosted by Mandy Ross. luvngraceaffair.com
The Waterfall Building, thewaterfallbuilding.com was also the sustainable venue of choice for the October 17th Vision Vancouver fundraiser "Vision: Next". Designed by Arthur Erickson the buildings unique architectural lines, live-work spaces, and other sustainable elements embue a certain sense elegance which seems to also attract many Hollywood directors. Movie's and Television shows filmed in the space include: Andromeda Strain, Battlestar Gallactica, Da Vinci's Inquest, Edison Force, Smallville, The L Word, White Noise, and many others. For more information on the unique space, volunteer Sustainability TV host Joseph MacKinnon interviews event attendees regarding many of the aspects of sustainability that Arthur Erickson incoporated into the building:  sustainabilitytelevision.com/video/vision-next-sustainable-architecture
 
FASHION, OPERA, AND CHAMPAGNE
Local Vancouver businesswomen and philanthropists Randi Winter of Passionate Travel passionatetravel.com and international fashion stylist and MC Cynthia Pace, organized the second Fashion, Opera, and Champagne - in support of the Canadian Breast Cancer Foundation which was held at Hycroft Manor, home of the University Women's Club.
Maryam Asgari founder of Maryam Fashion provided the fashions for the stunning show. More than 25 beautiful models, comprised of pageant queens, breast cancer survivors, and successful local entrepreneurs strutted their stuff through the Edwardian ballroom to the applause of attendees. Fashion designer Maryam Asgari said "we specialize in "upcycling", creating beautiful new designs from scraps of fabric and old garments, curtains, or even vintage tablecloths brought from Iran". maryamfashion.ca
Moved by Maryam's personal connection with a family member's struggle with breast cancer, the organizers Cynthia Pace and Randi Winter decided to join forces with Asgari to raise awareness of beast cancer, its prevention and detection, and to raise funds for further research. Thousands of dollars were raised by the work of volunteers and generous support of Randall Dyck of Faith Entrust, Photography by Kerri-Jo, Lord's Shoes and Apparel, Pink Orchid Studio, Soul Reflexions, Shoppers Drug Mart, Purdy's Chocolates, Hit & Run Self Defense, Dr. Sam Winter – Dentist, Black Velvet Collection, DeeBee's SpecialTea Foods Ltd., Vinyl Records, Dr. Morelli-Physician, Canadian Diamond Wholesalers, Luxe Beauty Lounge, and Henna by Saaj.  See link below for the show and post-show interviews with special guest Mark Holden of Mark Holden Fashion (markholden.com) at the Neverland Tea Salon (neverlandtea.com), hosted and MC'd by Cynthia Pace.
Watch the post-show interview with models and organizers:
High res version:  sustainabilitytelevision.com/video/hycroft-eco-fashion
Mobile version: sustainabilitytelevision.com/video/hycroft-eco-fashion-mobile
Pictured above: from left Kerry Gibson (EcoCentury.ca), Lucie Hart, Lavanya Hiremath (Miss Earth, BC), Kerri-jo (kerri-jo.com), Cynthia Pace, Randi Winter, Maryam Asgari, Kathi Harder (Miss Teen Canada, petite), Kiyoumars Mazkouri, Terri Tatchell (Owner, Neverland Tea Salon) - Jason Robinson (Founder & CEO Sustainability Television). Photo by: kerri-jo.com
Other related links of interest:
sustainabilitytelevision.com/video/hycroft-eco-fashion
sustainabilitytelevision.com/video/ford-ecofashion-week-seminer
sustainabilitytelevision.com/video/vision-next-sustainable-architecture
https://www.sustainabilitytelevision.com/video/eco-fashion-week-2013