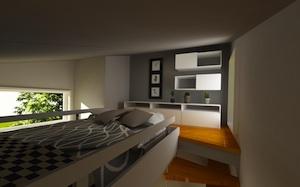 GLOBE 2014 – care, compassion, and resiliency in business
By Renee Mynott
For 24 years the Globe Foundation has been assembling global business leaders, senior business executives and government officials for its biannual Globe conference - under the banner of "the business of the environment".
The 2014 speakers list included many of the who's who of global sustainable business including such names as; Robert Kennedy Jr. President (Riverkeeper Alliance) and Jim Balsillie co-founder and former co-CEO of Research In Motion (BlackBerry) now the Chairman of Sustainable Development Technology Canada (SDTC).  View day one conference interviews: https://www.sustainabilitytelevision.com/video/globe-2014
In fact, the conference fielded a list of more than 200 speakers in total, covering an incredibly diverse range of topics from Energy, to Food & Water, The Circular Economy, Clean Capitalism, Aboriginal leadership, and Responsible Resource Management to name but a few. The goal? to help organizations "survive and thrive" now and into the future.
Many of the session topics provided useful insights and ideas for attendees including;
"How to be prepared for when life gives you a kick in the pants...", the theme of Dianne Dillon-Ridgley's message for attendees of the Women's Networking Luncheon.  
Dillon-Ridgley and other women executives; Dayna Baumeister (Biomimicry 3.8), Arlene Strom (Suncor Energy Inc.) and Barbara Turley-McIntyre (The Cooperators Group Ltd.) shared their perspective on sustainability with other women mentees, and the role women possess in advancing both personal and corporate sustainability. In this years luncheon Dianne's focus was; "In Life's Marathon Don't Forget JOY, HUMOUR, CARING and To Feed Your SOUL".
Dianne is a strong advocate for women's issues and role model to many young women.  She is "the Executive Director of the Women's Network for a Sustainable Future, and has for over thirty years worked on issues of the environment and sustainability, gender and CSR, both domestically and internationally. Since 1997 she has been a director at Interface Inc., a global manufacturer of modular carpet and a leader in sustainable design."
In addition to her incredible business accomplishments Dianne is also an Environmentalist and Human Rights Activist who has spoken at the Globe conference on a number of occasions. In her talk at the 2010 Globe Conference Dianne had 8 points of advice for young women (and men) attending the business luncheon:
1. "Breathe - just relax, there is going to be enough time to get to where you are going."
2. "Never stop learning or growing."  Only you can keep yourself ahead of the curve.
3. "Stretch - One day you'll go to pick up something and if you haven't been stretching you won't be able to pick it up."
4. "This I believe - What's your core?  What's your passion?"
5. "Make some real friends, and ensure you have enough time to treasure those experiences you have with your friends. Make time for your real friends, it's a bank account that will pay you dividends throughout your life."
6. "Include others in what you do".  Dianne says, "When I hear someone say I am the only one doing this work in my field, I want to say, shame on you!"  Bring along other women especially young women, you'll never get anywhere alone.  Dianne goes on to say I wasn't satisfied with being "the only one" (female, person of color) and want to encourage you to bring others along too, just as Bella Abzug and others did for me!
7. There will be jerks in life, it's inevitable, don't be one. Try really, really hard to move to your higher self, and never send an email in anger!"
8. And finally, "What is it about you that makes you memorable?  Know this, spend some time getting to know what it is about your soul that makes you special, how you work, how you keep yourself restored and ready for all that lies ahead.  Know this for yourself and only you."
In an off-camera interview, Dianne spoke frankly about the chronology of her life, some of her most daring and challenging life experiences punctuated by several life altering moments including; "the boldness of Texas",  "getting married" "spending time in compassionate Iowa" "and finally becoming a single Mom of two children" where at this point she re-stated her message:
"when life gives you a kick in the pants, humour and wit can de-intensify the situation and are great tools to get you through" - "every time there was a challenge in my life, it pushed me forward". 
Dianne sees challenges as opportunities for growth and development, and goes on to add: "we need a platform to talk about our challenges in life, and to realize the importance of our own "internal processes" and the interplay of the Sustainability conversation both at home and in our communities.
Looking to her own life and twenty-three years dancing Classical Ballet, Dianne used comparative examples of dance to exemplify her theory; Classical Ballet being "defiant" of gravity and Modern Dance being more in "harmony" with gravity. Dianne says; "We can choose the way of living that most honours our values, and in many ways honours the intention of sustainable thinking".
Dianne's final message to women leaders – a version of the quote by former U.S. Congresswoman and mentor to Dianne - Bella Abzug: 
          "I still believe that Women will change the nature of power,
                 Before power changes the nature of women"
New to Globe 2014 were the Powerhaus Pavilion and accompanying Power Pitches. Described in the conference program as " a series of special activities to promote the development and commercialization of innovative technologies" this zone of the conference was alive with activity.
Sponsored by Deloitte – the Powerhaus Pavilion and Globe are working with a number of partners to help Canadian companies "gain access to investors and to explore areas of common interest and collaboration with potential business partners".  Pavilion Partners included "the National Research Council of Canada Industrial Research Assistance Program (NRC-IRAP), the Vancouver Economic Commission, the BC Innovation Council, GreenAngel Energy, GreenTech Exchange, TMX Group, Foresight Accelerator, and the BC Bioenergy Network"
Chairman of Green Angel Energy Corp (TSX.V:GAE) Mike Volker said "I saw such an incredible need to assist start ups and early stage companies with funding, so I started the GreenAngel Energy Corp. - commercializing green technologies"
In addition to investing in "green technologies" Volker says: "we are also supporting local businesses with the Venture Connection and the Venture Labs in partnership with Simon Fraser University providing space and resources for developing business ideas.  Mike was even giving away portable cell phone rechargers in an effort to raise awareness of student projects.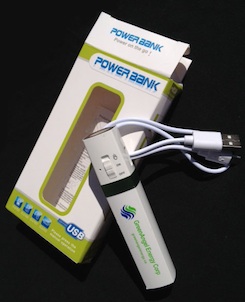 Volker believes:
            "There is an opportunity to have an investment that also matches values."
and shared some examples of the types of companies featured at the Powerhaus Pavilion.
Mazza Innovation - a phytochemical company that produces high value plant extracts, using pressurized low polarity water to optimize the extraction process. www.mazzainnovation.com
Paradigm Environmental Technologies - provides products for wastewater treatment plants to convert waste into renewable energy and other valuable bio-products. www.microsludge.com
General Fusion – is working on commercializing fusion power. "Fusion" is the opposite of "Fission" and operates on very much the same principles as our sun. www.generalfusion.com
Switch Materials – is looking improve vehicle efficiency by reducing air conditioning loads and increasing solar heat gains through window glazing.  www.switchmaterials.com
Bionic Power – a portable power company that enables recharging of batteries in the field by harvesting power from walking. www.bionic-power.com
Also a part of the Powerhaus Pavilion was another Vancouver company called Reforus. Reforus takes off cut and remnant wood, considered waste by loggers, mill owners, and developers to create high quality solid pre-formed wood composite tongue in groove panel boards for use in building applications – taking waste and turning it into a product with value.
Company CEO, Mike Porter says "we expect our number one seller to be garages, but we see many other applications for their use including; workshops, agricultural buildings, laneway homes, cottages, and even low cost housing. Our BuildPanel platform allows for high quality structures to be clicked together in hours using un-skilled labour, the panels are highly durable, and affordable for people around the world making $2 - $3 a day. www.reforus.com
On the main trade show floor were more that 200 exhibitors including another British Columbia based company called Dew Point Manufacturing – Dew Point is a developer and manufacturer of Atmospheric Water Generation (AWG) technology water that supplies users with clean, safe drinking water derived from the air.  According to company representative Vincent Cheng, and the company website; the technology "can be used throughout large sectors of the world for commercial, home, and office use as well as to meet humanitarian needs during natural disasters and (or) in conflict zones… and is an ideal solution for populations living in humid, warm climates".  www.dewpointmfg.com
Another notable company on the Globe 2014 trade show floor included Nomad Micro Homes. Nomad has designed a 100 sq. foot prefab home that can be assembled in 12 hours, and disassembled in about 4 hours. The home currently comes in four variations, which are designed to be modular – meaning they can be connected to make for larger and more versatile spaces.
Styles available include:
                        Live: includes a loft bed, kitchen, living room, and bathroom.
                        Space: does not include a bathroom.
                        Zero: is the Live with extra green features to take you off-grid.
                        Grow: is the basic shell, and can be used for storage or added space.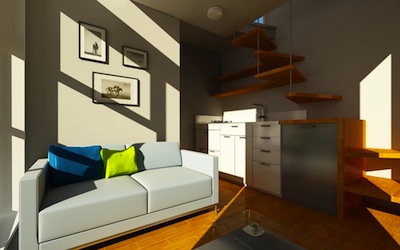 Note: layout may not be exactly as shown
Nomad Micro Homes President, Ian Kent believes the Nomad Home will be a big hit with it's $28,000 price tag (Live Model).
The home had a steady flow of interested viewers over the 3 day trade show which made an interview with the Nomad team difficult, and humorous at the same time. Sustainability TV, CEO - Jason Robinson remarked; "this would be great for a recreational property – I want one" to which Bobbie another conference attendee interjected with; "I can afford one". Kent replied to both attendees; "with the financing we have available, almost anyone can afford one".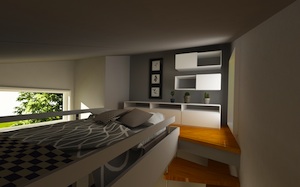 Other ideas from the steady stream of attendees to the Nomad house included:
-       Eco-resort or spa
-       Disaster relief housing
-       Recreational properties
-       Laneway housing
-       Employee housing
The open concept of the Live Model with its floor to ceiling windows and windowed front door, offers ample natural lighting throughout. A stair case takes you to the upstairs loft bedroom with a double bed space and enough room for a chest of drawers and built in closet. The bathroom has a full size toilet, a mini sink with a retractable tap that doubles as a shower nozzle.  The kitchen features a two-burner stovetop, bar style fridge, and IKEA cabinetry.
The optional solar package can easily be added in the Zero Model to take you and your new home completely off-grid. www.nomadmicrohomes.com