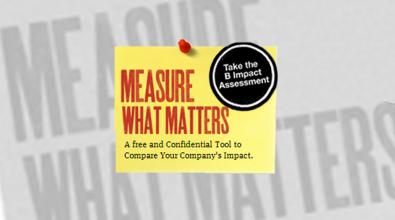 More than six years ago, B Lab created its first set of performance standards with the guidance and thought-leadership of a third-party standards advisory council. Every two years since then, B Lab's standards team revises the B Impact Assessment (BIA), filtering through the significant feedback that we've received from the users of our performance standards – now, more than 8,000 companies and nearly 100 investors -- with additional contributions coming from experts in impact measurement with deep sectoral experience.
The process of updating B Lab's performance standards starts almost as soon as we launch the previous version. When we launched version 3 in 2011, our team already had a "wish list" of ways to enhance the performance standards. We have focused on these areas for the past two years, and as we prepare to release our version 4 standards through public and private beta testing this fall, are eager to get market feedback on whether we have struck the right balance in introducing new concepts, responding to market feedback and raising the bar for impact measurement.
The significant changes that we have integrated into our version 4 assessment includes more clearly defining the structure of the B Impact Assessment, from the Operational Impacts of a business to its Impact Business Model (or, the intended theory of change of the business). On the Operational Impact side, we've modified our assessment in two main ways:
• Shortened the B Impact Assessment for early-stage and small businesses – Reacting to market feedback, we simplified the assessment for smaller companies without compromising its use as a "roadmap" for best-in-class impact as they scale. We have shortened the assessment by eliminating questions that were not applicable and by introducing new technology functionality that pre-populates answers to questions that are not applicable for a specific company.
• Tailoring the assessment for larger businesses, by introducing a version of the assessment targeted to companies with more than 1,000 employees – with the generous support of Halloran Philanthropies, B Lab ran a 12 month working group process, comprised of experts in performance standards for large companies, to craft questions that fit the framework of the B Impact Assessment relevant for bigger businesses.
The section of the B Impact Assessment where research and feedback have been both challenging and fruitful is the Impact Business Model (IBM). During the past two years, we've heard from entrepreneurs and investors alike that this section could benefit from refinement and greater specificity in measurement. In particular, the impact investor community has pushed us to create a comprehensive framework for measuring business model impact.
In version 4, we are introducing a uniform, multi-factor approach to each IBM captured in the B Impact Assessment. The framework covers:
Intent of Business – To qualify for an IBM, a company must demonstrate that the intervention is part of the core intent of the business (rather than an ancillary or unintended impact). For example, to qualify as a Workforce Development/Job Creation business model, a company must hire a certain percent of workers from chronically underemployed communities.
Intensity of Intervention – Each IBM has questions about how intensive an intervention is (how many hours of training and topics covered through workforce development programs) and what percent of the company's business focuses on that intervention (through amount of revenues from sale of products and services, or COGS in the case of suppliers).
Efficacy – Measuring outcomes is the most challenging aspect of impact measurement, the area where we can leverage in-depth sector specific research. For some IBMs, we have enough data to ask about specific outcomes (for example, in workforce development, we ask if a company tracks the workers it has trained after they "graduate" – beyond existing employment – and whether those workers have attained gainful employment in the medium and long-term). In other areas, particularly around outcomes associated with a specific product or service, we ask more general questions whether a company has defined desired outcomes, created targets for meeting those outcomes, measured against those targets and have had success in meeting the targets. This is a relatively unsophisticated approach but at this point as an industry, the best path forward that we have found in encouraging enterprises to think about outcomes and encourage linking key outputs to desired outcomes into their business structure.
Beneficiaries served – This factor focuses on whether an in-need beneficiary is being served. For products and services, we measure the customer/clients served or the positive environmental impact created or mitigated; for supply chain whether small business and micro-entrepreneurs are supported; and for workforce development whether chronically underemployed individuals have been hired.
Reach – All IBMs include one or more metrics that measure the scale of intervention. For many, this is a measurement of individuals, households, businesses or communities served, but also covers environmental metrics like tons of CO2 off-set.
Sector innovation – This factor focuses on identifying those game-changing business models that will revolutionize a sector or create follow-on innovation up or down the value chain. The intent is to capture how a business model innovative, scalable and replicable. We will gather data from businesses on version 4 to better understand how entrepreneurs define sector innovation, with the goal of adding more nuanced questions on this topic in future versions.
Industry Data – Leveraging the great work of others, including the Social Performance Task Force within the Microfinance Industry, the Global Alliance of Banking Values in financial institutions, and IRIS' sector working groups, we have integrated industry specific metrics to generate greater industry specific benchmark data.
There will never be a perfect, standard measurement of impact that meets all users' specific needs, but if we can coalesce around a common framework and set of metrics, we can collectively build a strong set of data that addresses many of our individual needs. To build a framework that is useful, comprehensive, and relatively simple is our objective. The entrepreneurs that use our standards – for self-assessment, to become a B Corp, or to report on impact to their investors through GIIRS – need a tool that is easy to use and straightforward. Their goal is to build a successful, sustainable, long-lasting business. Our mission is to create an impact measurement framework that provides an evaluation that is relatively sophisticated, without being overly burdensome.