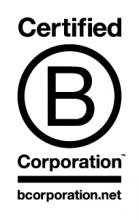 Becoming a B Corp isn't just about achieving a certification; it's also about joining a community! One of the biggest benefits of getting certified is the opportunity to meet other business leaders who share your triple-bottom-line values. This makes the B Corp community the perfect starting place to form fruitful relationships between responsible companies—but how can B Corps tap into this partnership potential?
A great example is the recent partnership between B Corps New Living and Savvy Rest. New Living is a Houston-based home store that sells sustainable furniture and home goods. Savvy Rest, on the other hand, manufactures organic mattresses and bedding, using environmentally-friendly materials. The two B Corps recently announced that they would be working together, with Savvy Rest's mattresses now available in New Living's Houston store.
Clearly these two B Corps are a match made in heaven. But how did they find each other, and how can other B Corps follow their example? B Lab sat down with John Howard-Smith, Savvy Rest's Director of Business Development, and Jeff Kaplan, the founder of New Living, to find out.
How did you each decide to get certified?
John Howard-Smith: We learned about B Corps from Jeff at New Living, actually. At the Las Vegas Market in January we mentioned to Jeff that we had just become an employee-owned company, a great way to improve employee's lives and overall morale, and he mentioned how they were a B Corp. The idea of committing to higher business standards was always appealing to us, but it felt right to go about it in an official way to promote greater awareness of B Corp tenets and to find out where we could be doing even better.
Jeff Kaplan: We decided to get certified because we wanted to be a part of a bigger community of entrepreneurs looking to use business to solve social problems.
Was partnering with other Bs a goal from the beginning, or something that you became interested in as you got to know the community better?
Jeff Kaplan: We have a strong bias towards partnering with businesses committed to social and environmental change. The B Community has become our filter for identifying these partners.
John Howard-Smith: We certainly didn't become a B Corp with that goal in mind, but it became evident quickly that it is much easier to do business with like-minded companies. We're new to the B Corp community, but we hope that our relationship with New Living will be the first of many partnerships for us with other B Corps.
How did you identify one another as potential partners? Was it part of an intentional search or a happy accident?
John Howard-Smith: We have been adding retailers of our products at a nice pace over the last several years, but there were a few metro areas in which we were underrepresented; Houston was one of those. So I was aware of New Living because of their presence in that market, but until they visited our showroom at the Las Vegas Market, I hadn't met Jeff and I hadn't heard their B Corp story. We had a good connection and the B Corp story really stuck with us. 
Jeff Kaplan: We saw what Savvy Rest was doing. We met them at Market in Las Vegas and knew immediately that they should be in the B Club. They had just recently converted to an ESOP (Employee Stock Ownership Program). We told them if there were to ever become a B Corp it would be very tough for us to not work with them!
Have you found differences in partnering with another B Corp as opposed to other businesses? How do your shared values and community come into play?
John Howard-Smith: The relationship is relatively new, but we expect big things. One thing that we've noticed with B Corps is that employees are generally empowered. It's refreshing to always deal with highly competent people who seem to have a bigger picture in mind. 
Jeff Kaplan: Knowing that a potential partner is already a Certified B Corporation makes the on-boarding process so much faster. The kindred spirit and common ground that exists between Bs creates a level of trust that normally takes years to develop.
John Howard-Smith: Our shared values are a driving force behind the partnership as well. We manufacture organic mattresses using the purest materials available that have been sourced responsibly. And New Living offers our products—in addition to many other beneficial ones—to the public in Houston. The partnership allows us to get our products out there to more people. And if more people are choosing our products over ones made with harsh chemicals, then we're seeing real change that's brought about by our relationship with New Living.
What tips do you have for other B Corps who are considering finding fellow B partners? What resources should they use?
Jeff Kaplan: I think it makes sense to look across the supply chain to identify any potential partners you are already working with who share the vision of the B Community.
John Howard-Smith: Make sure the B Corp logo is featured prominently so that fellow B Corps can identify you. We tout our membership at trade shows and in advertisements which really helps. It's always a good idea to use B Lab's "Find a B Corp" tool to identify other B Corps in your industry.
For more information on New Living and Savvy Rest and where else you can find them online, check out their B Corp profiles!