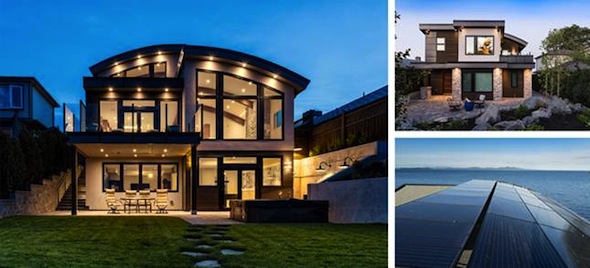 Ottawa, June 8, 2017 – On June 5, 2017 the Canadian Home Builders' Association (CHBA) recognized a home in Victoria by Falcon Heights Contracting as the first home qualified under its Net Zero Home Labelling Program.
The Net Zero Home Label recognizes homes that produce as much energy as they consume. Consequently, their EnerGuide rating - a measure of energy consumption in gigajoules per year - is 0.
Falcon Heights Contracting owner Dave Mackenzie, a member of CHBA Vancouver Island, pitched the net-zero idea to clients who were already looking to build an energy-efficient home equipped with a photo-voltaic solar system to generate electricity.
"Energy conservation was really important to the homeowners. We were able to introduce cutting-edge technology, such as an air to water heat pump system, to provide radiant heat and mild cooling while still exceeding the Net Zero Home requirements," said Mackenzie.
"CHBA congratulates the team at Falcon Heights Contracting, a member of CHBA Vancouver Island, for being the first in Canada to achieve this prestigious recognition under our new program." says Sonja Winkelmann, Director, Net Zero Energy Housing. "We would also like to thank CHBA-BC and Energy Advisor Niels Anthonsen, for the third-party testing and inspections that supported Falcon Heights. Together, the builder and their team of professionals have achieved an impressive milestone in Canadian housing."
The Net Zero Home Labelling Program provides the industry and consumers with a clearly defined and rigorous two-tiered technical requirement that recognizes Net Zero and Net Zero Ready Homes, and identifies the builders and renovators who provide them.
"CHBA supports leading-edge innovation in the residential construction industry with the goal of having those innovations as a voluntary and affordable choice for consumers," said Kevin Lee, CEO. "The Net Zero Home Label will help to meet the energy efficient housing aspirations of Canadians, while strengthening Canadian industry leadership in high performance housing. CHBA members have always been leaders and innovators - this program continues that trend."
This is the first home qualified under version 1 of the CHBA Net Zero Home Labelling Program, which was launched on May 2, 2017. A pilot version of the Net Zero Home Labelling Program ran from September 2015 to December 2016 to validate technical and administrative details.
-  Builders and Renovators can learn more about the Program at www.chba.ca/nze
-  Consumer information on the Program can be found at www.NetZeroHome.com
-  Information on the Net Zero Council can be found at www.chba.ca/nzc
- 30 -