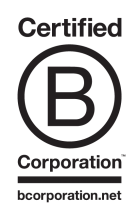 MEDIA ADVISORY: For Immediate Release
CONTACT: JASON ROBINSON
 
Sustainability Television®  Recognized in First 'Best for the World' List
of Businesses With Less Than 10 Employees Creating Most Overall Positive Social and Environmental Impact
Top 10% Among Certified B Corps With Under 10 Employees
 
March 7, 2012: RICHMOND, BC, CANADA
Sustainability Television Inc. has been recognized as 'Best for the World' in a list of businesses with less than 10 employees creating the most overall positive social and environmental impact.  Sustainability Television® and the other 'Best for the World' businesses earned a score in the top 10% of all Certified B Corporations with 10 employees or less, and, on average, 50% higher than the average score of nearly 2,000 other sustainable businesses that have completed the B Impact Assessment. 
The B Impact Assessment, governed by the nonprofit B Lab, is the most rigorous, comprehensive, and comparable independent assessment of overall corporate impact and shows the relative value businesses create for society by comparing nearly 200 individual metrics on corporate impact on workers, consumers, suppliers, community and the environment. 
"Sustainability Television® is a leader in the global movement to redefine success in business," said Jay Coen Gilbert, co founder of B Lab, the organization that certifies B Corporations. "Sustainability Television" is among the best in the world at being the best for the world." 
Sustainability Television Founder and CEO, Jason Robinson says "today is a great day; having been recognized with other leading companies who believe that a triple-bottom line philosophy, patient capital and the golden rule just makes good business sense.
A social enterprise business can in many cases create above average returns, and social impact at the same time.  Certainly in the case of Sustainability Television we are also showing it is possible to be a leader in the technology space through a major commitment to R&D, innovative design, and the empowerment of the many great non-profits and other community organizations we help to support through our work."
'Best for the World' businesses with less than 10 employees include: Autonomie Project, Inc., Big City Farms LLC, Co-op Power / Northeast Biodiesel, davistudio, EduCare Education, Enviro-Stewards, Fair Trade Sports, Inc., GreenLight Apparel, Hives for Lives, InVenture Fund, JustNeem, KINeSYS Inc., LEAP Organics, Little Pickle Press, mindful investors, Natural Investments LLC, New Avenue, Palmetto Ventures, Pivotal Production, SABEResPODER, Social Enterprise Associates, Social(k), Sustainability Television®, The Inclusive & Sustainable Group, LLC, The Sustainability Advantage, and Veterans Ink.
The 'Best for the World' list appears in the 2012 B Corp Annual Report published today by B Lab.  The report may be viewed in its entirety via the following link, with Sustainability Television appearing on pg 29: http://www.bcorporation.net/resources/bcorp/documents/BcorpAP2012_Web-Version.pdf
*           *           *
ABOUT SUSTAINABILITY TELEVISION INC
Sustainability Television® is an internet based broadcaster and social media network that promotes healthy, sustainable communities and lifestyles.
Learn more about how Sustainability Television® and how it creates positive social and environmental impact at:
https://www.sustainabilitytelevision.com/
https://www.sustainabilitytelevision.com/about
https://www.sustainabilitytelevision.com/content/sponsorship-opportunities
or contact Jason Robinson by becoming a member and clicking on: https://www.sustainabilitytelevision.com/contact/info
 
ABOUT B LAB
B Lab is a nonprofit organization dedicated to building a new sector of the economy that uses the power of business to solve social and environmental problems.  B Lab drives systemic change through three interrelated initiatives: 1) building a community of Certified B Corporations to make it easier for all of us to tell the difference between "good companies" and just good marketing; 2) driving capital to impact investments through use of GIIRS Ratings and Analytics; and 3) advancing supportive public policies to accelerate growth of social entrepreneurship and impact investing.  To earn certification, B Corps must achieve a verified minimum score (80 out of 200) on the B Impact Assessment and amend their bylaws to legally require their directors to consider the interests of stakeholders, not just shareholders, when making decisions.  For more information, check www.bcorporation.net or
contact Jay Coen Gilbert at:  jay (at) bcorporation.net.
– 30 –
RELATED LINKS:
FINANCIAL POST - MARCH 09, 2012:
http://business.financialpost.com/2012/03/07/canadian-b-corps-among-best-for-the-world/