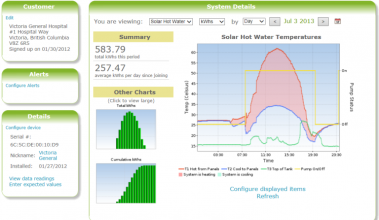 The Victoria General Hospital made excellent use of their solar hot water system this summer. According to the SunReports renewable energy monitor that was installed on the system, the performance for July 3 shows a production of 583.79 Kilowatt hours (kWhs). This translates into an energy savings big enough to power 23 homes for a day, or a small subdivision, with the average 3 bedroom home using 25 KWhs. This was the average daily savings for the hospital in July!
Joe Murphy, VP Operations and Support at Island Health, notes, "We are proud to have four buildings across the island with solar arrays. Solar thermal energy use is one of the many ways we're working to reduce our carbon footprint and our natural gas bills. While many of our successful energy saving projects happen behind the scenes at the staff and facility level, our solar panels are a visible symbol of our commitment to sustainability and responsibility – both for the environment and for the health of our communities."
The system, consisting of 80 solar collectors, custom pump station and controls system as well as 1500 gallon solar storage tanks, was designed and installed by Terratek Energy Solutions. Overall savings in July has amounted to 15,085 kWhs and through updates on savings equivalents from SunReports, the Vancouver Island Health Authority to track savings in real time and obtain regular user-friendly updates. Equivalent updates include savings in coal burned, CO2 produced, and kilometers driven.  
View more images of the Victoria General Hospital solar hot water installation here.