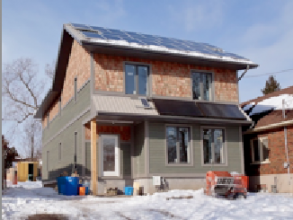 Did We Just Build Canada's Greenest Home?
The Endeavour Centre is a not-for-profit sustainable building school, and we undertook this project as a way to involve our students in the creation of the greenest home possible. We felt we were in a unique position to design and build a home to uncompromising environmental standards, unhindered by the pressures that can make such innovation difficult for conventional builders.
To add to the challenge, we decided that this home must be reproducible by other builders and not be a one-off "experiment." We decided the home should be privately funded, with no government grants or R&D money. It is intended to go on the market and be sold at a competitive price. The aesthetics must blend with an existing neighbourhood. We figured that if we can achieve all of these goals, then the project has real value as a potential trend setter.
Every aspect of the home was designed, sourced and built to meet the highest possible environmental standards, with features that include:
·      Urban infill siting
·      Regionally and ethically sourced renewable building materials
·      Prefabricated straw bale wall panels
·      Net zero energy use, featuring photovoltaic electricity and solar hot water
·      Home energy monitoring and programmable dashboard
·      Zero emissions Air Source Heat Pump for heating and cooling
·      Energy Recovery Ventilation (ERV) system
·      Full rainwater harvesting and treatment
·      Complete composting toilet system
·      All non-toxic materials and finishes
·      Passive solar design and triple glazed windows
·      Barrier free main floor design
·      And much more…
Our media preview day will give you an opportunity to tour the home, meet the designers and builders, take photos and take away the fact sheets that detail all aspects of the home.
As part of our educational mandate for this project, we are keen to share information about the home with the widest possible audience. We hope that you will find this project of interest for your audience and help us spread the story of the home that has a fraction of the environmental impact of a conventional home but is affordable, buildable, comfortable and healthy for its occupants.
The home is located at 136½ James Street, Peterborough, Ontario.
Many photos and details of the construction process can be found on the project blog at http://endeavourcentre.org/current-build-2012/.
For more information, please contact Chris Magwood at chris@endeavourcentre.org or 705-957-3282.