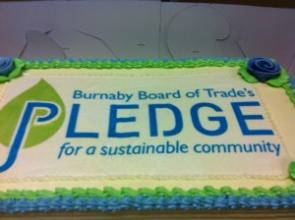 When we launched the Pledge in November last year our goal was to have a 100 Pledge Takers by December 2013. Well, we're thrilled to announce that we have reached that goal 4 months ahead of schedule.
So first of all, a big thank you to all of our Pledge Takers and to all of the sponsors of the Pledge who very early on jumped on board and supported this initiative.
In the coming weeks you'll hear more news regarding the development of the new Pledge web site which will be more user friendly and allow Pledge Takers and browsers to see information more easily regarding the Pledge community.
But in the mean time, here are some of the organizations who have taken the Pledge.
Our very first Pledge Taker was Valley Bakery, our 50th was BCAA and our 100th Pledge Taker was Ricoh Canada. Others include: 12 financial institutions, 12 Not-for Profits, 4 educational institutions, 12 are in the process of or are completing the Climate Smart workshop and one organization that we're aware of who Pledged to report their sustainability progress under the Global Reporting Initiative framework and reached their goal!
Congratulations to everyone on their sustainability efforts and remember to keep in touch with us with how we're doing  so we can help celebrate your progress and successes.
Sponsors:
Platinum Sponsors: Vancity, Electronic Arts, Hemlock Printers, Return It
Gold Sponsors: ABC Recycling, Burnaby Now, Ballistic Arts, Fortis BC
Our First One Hundred
ABC Recycling
ACT-Autism Community Training
Acuere Consulting Inc.
Addaco Shipping
Advanced Computer Networking Systems
Alpha Technologies Ltd.
Ambitious Minds Inc.
ASAP Meter Ink
BC Housing
BCAA
BCIT Student Association
BCjobs.ca
Best Heating Inc
Bosagrape Winery & Beer Supplies
British Columbia Institute of Technology
Burnaby Association for Community Inclusion (BACI)
Burnaby Heights Community Branch
Burnaby NewsLeader
Burnaby NOW
Burnaby School District #41
Canada Mats
Charlie's Chocolate Factory
Cipko Consulting Ltd.
Climate Smart Businesses
Computers for Schools
Concord Security Corporation
D. Gering & Associates
Delta Burnaby Hotel and Conference Centre
Down Syndrome Research Foundation
eeko Couriers Inc.
Electronic Arts Canada, Inc.
Encorp Pacific Canada
End2End Media
Enviro-Green Roofing & Restorations
False Creek Collision
FortisBC – Burnaby Operations and Customer Service Centre
FS FInancial Strategies Inc
G&F Financial Group
Gloo Studios
Grand villa casino
Great Bear Pub and Liquor Store
Green Chamber of Commerce BC
Greenscape Design & Decor
Greenster Inc.
Habitat Systems Inc.
Hemlock Printers
HighNet Energy Inc.
HJ Wu & Company Inc. (CGA)
HollyNorth Production Supplies Ltd
IBM
Ignite Leadership International
Impact Canopies Canada Inc.
Investors Group
Kitchen Craft Cabinetry
Korean Consulate General, CS – KOTRA
London Drugs Ltd.
Maple Overseas Cultural Foundation
Marney's Bookkeeping
McRae's Environmental Services
Moksha Yoga Burnaby
Mountain West Studios Ltd.
My Father's Garden
My Loud Speaker Advertising
Nesters Market & Pharmacy
Northwest Wildlife Preservation Society
P W Trenchless Construction Inc
PACE Canada College
Pacific Blue Cross
Park Insurance Agency LTD
Progressive Housing
Ricoh Canada Inc
Ritchie Bros. Auctioneers
Rona Home Centre
Saakori Lifestyle
Sejong CounsellIng and Communication Services
Simon Fraser University
Smartt
SPARC BC
St. John Ambulance
Strandberg Consulting
Susan Papadionissiou Consulting
Sustainability Television Inc.
Tax, financial systems consulting, assurance / Clearly Accounting
TELUS
The Brick Distribution Centre
The Silent Gardener Ltd.
Valley Bakery Ltd
Vancity – Royal Oak
Vancity – South Slope
Vancity – Burnaby Heights Community Branch
Vancity Brentwood Community Branch
Vancity Savings Credit Union
Vancity, South Burnaby Community Branch
Vancouver Scanning Group
West Coast Liquor Company
West Coast Moss Removal
Westwood Cycle
Wildlife Rescue Association of BC