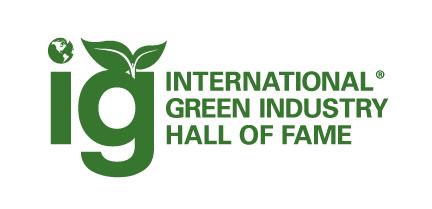 (Fresno, Calif.) – For the fourth year, the International Green Industry Hall of Fame (IGIHOF), a nonprofit founded by Sam Geil in 2008, will honor organizations and individuals across the world that are recognized pioneers, innovators and utilize best practices in the green industry.
The IGIHOF Induction Ceremony and Conference will take place in San Jose, California, on the campus of San Jose State University on March 28, 2014. This year's theme for the conference is "Bridging the environment and technology" and will explore the relevance of green technology, and green technology within the broader field of sustainability.
On an annual basis, IGIHOF asks the general public to nominate individuals, organizations, or businesses that are working towards a sustainable future. The IGIHOF Board of Directors will announce the 2014 Hall of Fame Inductees in recognition of their contributions to the green industry.
The 2014 nominees include Google, Honda USA, Seventh Generation, Toyota Motor Corporation, Build It Green, Arbor Teas, Silicon Valley Leadership Group, SF Giants Baseball Club, BioBag USA, Moon Valley Organics, Green Team San Joaquin, Interface Inc., Ira Ehrenpreis, Kebony International, Mirimichi Golf Course, Roz Savage, Stem Inc., Synergy International, 10,000 Villages, Terra Pass Inc., Terra Cycle Inc., green business attorney Donald Simon, environmental scientist and physicist Amory Lovins, and green building consultant Marc Richmond.
"I'm elated to be nominated for induction into the International Green Industry Hall of Fame," said green business attorney Donald Simon. "I've been very impressed with IGIHOF's global impact over the years. The organization has advanced sustainability leadership while promoting these critical values throughout the United States and beyond. It is an honor to be considered for inclusion among its impressive list of inductees."
The event, sponsored by San Jose State University's Mineta Transportation Institute, a federally-created entity that conducts peer-reviewed research on transportation policy, will also include 30 exhibitors, speakers, and concurrent sessions covering green practices and a networking hour with green businesses professionals from some of the largest corporations in the world. Executives, individuals from companies that have green practices are encouraged to attend.
To learn more about International Green Industry Hall of Fame and register for the conference, please visit
www.gogreenhall.org
.
When:
March 28, 2014
7 a.m. to 5 p.m.
Where:
MINETA TRANSPORTATION INSTITUTE
SJSU Research Center    
210 N. 4th Street, 4th Floor    
San Jose, CA 95112
Tickets:
$55
www.gogreenhall.org