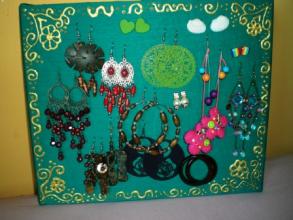 Earring Organizer
How Eco-Crafts support the 4R-strategy: "Rethink – Reduce – Reuse – Recycle"
 
I collect earrings – from different countries, many with different colours, shapes, sizes, and many are hand made or even self-made. I love to wear earrings and my earring collection. (Un)fortunately, I can't wear them all at the same time, so I have to store them somewhere - usually in a box or drawer where they get all tangled up. In the morning, when I then try to find the pair matching what I wear that day, while already in a rush, I don't have the time to look for the second earring. So, I sometimes get stuck just wearing the same neutral pair.
 
At least that's how it was, before I reorganized my room and an old wooden picture frame caught my attention. (aha!!)
 
20 minutes later I had my fancy, ready-to-be-hung-in-the-closet earring organizer.
It's easy to do!
 
All you need is:
·   A pair of scissors
·   An old frame (preferably wooden)
·   Some piece of fabric (from your one-time-favorite piece of clothing with the stubborn stain on it)
·   Stapler and staples
·   Optional: window colors for decoration
 
Step 1:
Cut out a piece of fabric big enough to cover your frame and quite some extra fabric on each side, so that it can be attached to the frame.
 
Step 2:
Use the stapler to attach the fabric to the backside of the frame. Make sure to stretch the fabric tight before stapling, otherwise it will hang loosely. If the frame has a hook attached for hanging it to the wall, cut a small hole in the fabric for the hook, so that you can hang the frame later. (Attention: This step should not be done by children since handling the stapling machine can be unsafe.)
 
Step 3:
Cut off the leftover fabric on the sides.
 
(Optional) Step 4:
Decorate your frame on the sides. (see picture for example)
 
Voilà! Your Earring frame is done!