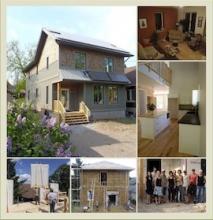 March 2, 2015
Not-for-profit building school sets example for energy and carbon footprint reduction in homes
A small, not-for-profit building school in Peterborough, Ontario has succeeded in building a home that earns its owners over $2000 above utility costs annually, uses 70% less energy and 71% less water than comparable homes, while reducing environmental impacts of construction by 48% and construction landfill waste by 89%. The builders also excluded any materials that contain toxic or questionable chemicals and any materials that can cause environmental degradation in the harvesting or manufacturing process. And they did it by sourcing 90% of the materials within a 250km radius.
The construction cost for such a home? It's at the lower end of the custom home spectrum, at $185 per square foot (or $165/sf without the solar, compost toilet and rainwater systems) for the 2,300 square foot home.
It didn't take government grants, corporate R&D or high-tech components to make the home. Every material and system used was an off-the-shelf item available to any builder, and the home was largely built by students in The Endeavour Centre's Sustainable New Construction program.
Indoor environmental quality is very high. A minimum of two windows are visible from any point in the home, bringing in ample daylight. The lack of toxic or offgassing materials means clean air, made cleaner by a high quality filtering system and air exchanger. The wall system of the home is "permeable" which means that moisture does not get trapped in the walls, dramatically lowering the chances of mold issues.
The home doesn't suffer from appearing like a strange new thing either, its wood and shingle siding fitting so well into its neighbourhood in an existing residential area of Peterborough that only the solar panels on the roof set it apart.
This home is easy to reproduce. Building of this sort can be done for single family dwellings or multi-unit structures. With minor adjustments, it can be delivered as affordable housing. If more buildings were made this way, the price would come down even more.
We did it. We'd like to see others do it, too!
If you would like more information about this project, please contact: chris@endeavourcentre.org
For a free, 100-page PDF book about the building of this house, go to: https://www.dropbox.com/s/fpw6a8fj5ekmw0a/CGH-book%20copy.pdf?dl=0
You can see the construction blog for this home at: http://endeavourcentre.org/category/canadas-greenest-home/
You can see the blog A Year in Canada's Greenest Home at: http://endeavourcentre.org/category/a-year-in-cgh/
Energy Costs
Month/Year

PV Output in kwh

Power Use in Kwh

Money received

Utility costs

Oct-13

611

155

330.04

33.32

01-Nov

383

501

204.87

70.86

Dec-13

235

918

123.62

127.22

Jan-14

97

1543

47.85

197.19

Feb-14

155

1750

79.7

228.77

Mar-14

332

1275

176.37

166.17

Apr-14

652

1145

352.55

151.47

May-14

621

700

335.53

98.52

Jun-14

805

292

436.55

51.01

Jul-14

729

217

394.82

41.97

Aug-14

781

180

423.77

37.6

Sep-14

674

191

364.63

38.13

 
 
 
 
 

Totals

6075

8867

3270.3

1242.23

 
 
 
 
 

Production vs Consumption

 

(2792 kw/h)

 

Money received vs spent

 

2,028.07

 
Energy Use
| | |
| --- | --- |
| Endeavour House | Ontario Average1 |
| 8867 kilowatt hours measured total use (includes heating and all plug loads) | Average for 2,500 square foot home built after 1996 |
| 31.92 gigajoules | 107 gigajoules |
70% reduction in annual energy use
Water Use
| | |
| --- | --- |
| Endeavour House | Ontario Average2 |
| 197.42 liters per day for 3 users | Average for residential use in Ontario |
| 65.8 liters per person per day | 225 liters per person per day |
71% reduction in annual water use
Embodied Energy
| | |
| --- | --- |
| Endeavour House | Conventional Home Construction |
| Straw bale walls, Durisol foundation, solid wood decking, steel roof | 2x6 walls, ICF foundation, plywood decking, asphalt shingle roof |
| 146,437 megajoules3 | 277,544 megajoules3 |
48% reduction in embodied energy use
131.1 GJ reduction is equivalent of 4.1 years of building energy use
Construction Waste
| | |
| --- | --- |
| Endeavour House | Canadian Homebuilding Average |
| 81% diversion from landfill | Average of 8,000 pounds per 2,000 square foot house |
| 852 pounds of landfill | 8,000 pounds of landfill4 |
89% reduction in landfill waste
1 Statistics Canada, Households and the Environment: Energy Use, 2011
2 Environment Canada, Municipal Water and Wastewater Survey - MWWS Variable Description Document, Public Version, 2011
3 University of Bath, Inventory of Carbon and Energy (ICE) 2.0, 2010
4 National Association of Home Builders report, 2011