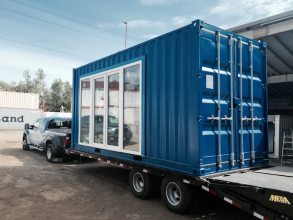 The Globe Conference team opened the 2016 biannual conference with a bang, by having the  keynote address delivered by none other than current Canadian Prime Minister Justin Trudeau. Trudeau's message was balanced and optimistic; announcing two new funds totalling more than $125M for clean innovation and climate aware infrastructure projects. Trudeau also recognized the importance played by the natural resource sector saying "we must continue to generate wealth from our abundant natural resources to fund this transition to a low-carbon economy."
The conference attracted numerous speakers from every part of the political spectrum  and geography including the likes of; Kathleen Wynne - Premier of Ontario, Greg Selinger - Premier of Manitoba, Christy Clark - Premier of BC, Rachel Notley - Premier of Alberta, Philippe Couillard, premier of Quebec, Catherine McKenna - Minister of the Environment and Climate Change for the Government of Canada,  and Ségolène Royal - Minister of the Environment, Energy and Marine Affairs; Responsible for International Climate Relations, Government of France to name but a few. A full speakers list can be found here: http://www.globeseries.com/conference/speakers/
As "the Leadership Summit for Sustainable Business," Globe assembled Sustainability leaders from many of the worlds tops companies. Speakers offered personal and corporate solutions to the challenges and opportunities that exist to create both long term shareholder value, new less harmful and more socially and ecologically integrated businesses.
One such session; Transformational Companies: A Spotlight on Best Practices was moderated by Sally Uren - CEO, Forum for the Future.  Uren engaged the audience with interactive games that included their questions and insights.  Featured panellists included Judy Glaser - Global Head, Product and Service Sustainability for HP, Trisa Thompson - VP Corporate Responsibility, Talent & Capabilities for Dell, Charlene Wall-Warren - Director of Sustainability for BASF, and Michael Kobori - Vice-President, Sustainability, Levi Strauss & Co.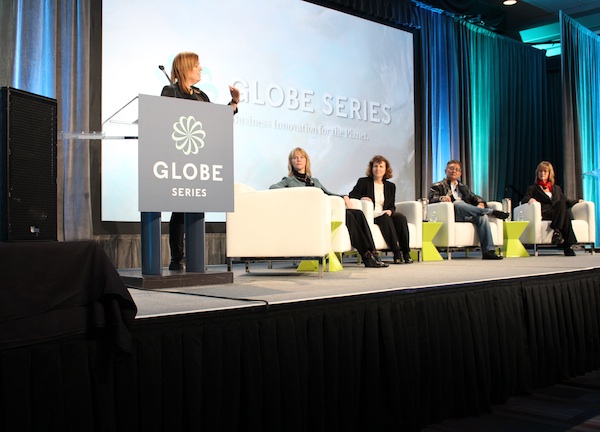 Mr. Kobori, shared an image that brought laughter from the audience as he described the 100 year old pair of jeans that are not only recycled but are also part of a new revenue stream for the company as vintage wear. Levi's now has take back bins "in-store", to facilitate both extended producer responsibility, and as the feedstock for the vintage line of apparel.
Mr. Kobori also proudly shared Levi's massive impact on water use in the Jean making process; significantly reducing water use "up to 96% for some styles." Processes that have translated into more that a Billion liters of water saved since the program launched in 2011.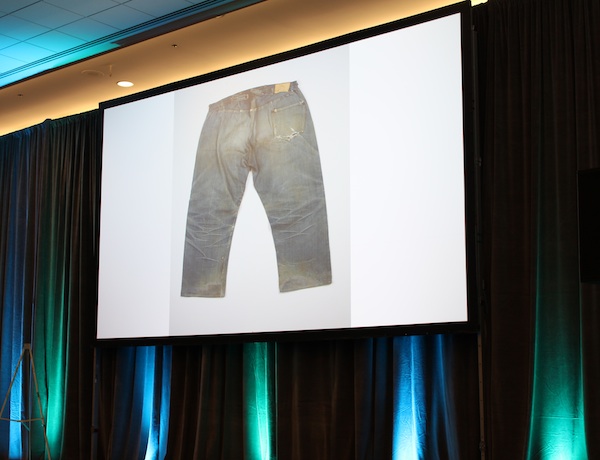 In addition to dozens of speaker sessions, the conference also had numerous events, networking opportunities, and an Innovation Expo with nearly 200 exhibitors.  Conference COO, Nancy Wright shares the goals and forward looking plans for globe: [
http://bit.ly/1S11PUO
 ]  
For the complete Exhibitor List and Floor Plan see: 
http://bit.ly/
1TzyWos  
The INNOVATION in Industry™ mobile office was a huge hit with Expo visitors both for its proximity to the Italian Chamber of Commerce and their list of fine wines, as well as for the beauty and simplicity of the Italian designed Cubista Ottoman and mobile office interior. "The Cubista provides seating for up to five individuals. Each side of the Cubista can be removed and attached to one of four bases that nest inside the ottoman structure. Attendees were also very keen to try out the queen size bed manufactured by Clei that neatly tucks away into 31cm space in the wall. For more information on Clei, visit the tiny space experts at Resource Furniture, 861 Richards Street in Vancouver or at:
www.resourcefurniture.com
Purpose built as a mobile office for the Sustainability Television crew while filming the INNOVATION in Industry™ series, the mobile office also challenges our thinking around space efficiency, energy efficiency, and our creative imagination.  
Sustainability Television Founder & CEO Jason Robinson describes the process of building the mobile unit as "the coupling of beauty and Sustainability in a project that accomplished all of our research and educational objectives."   
When asked about where the genesis of the idea for the office came from, Robinson replied;
"Well, we have been working in the Green Building space for years filming some seriously high performance buildings like the Harmony House. I just felt that this was the type of office that defines the type of company we are, and the type of Building Industry Research and Education Initiative that needed to be done to advance the industry. I mean there is a long way to go for buildings to become sustainable. There are many things to consider like; non-toxicity, regenerative materials, durability, and especially here in North America "Longevity." The level of throughput is just atrocious. We literally have homes that people have not even finished paying for that are being torn down to be replaced with larger newer homes. The amount of material being sent to landfill is shameful, truly we should be ashamed of the waste that we allow, condone, and incentivize in our society.
The neighbours behind us just sold their beautifully maintained, perfectly livable home that they raised their family in. It has been gutted, knocked down, and only a couple of weeks later a new larger home going up in its place.  This really wouldn't be of concern if it was a one-off, but we're talking about a widespread short-termism, characterized by disposable thinking, and frenetic behaviour that our society, planet, and economy can little afford.  The mobile office that we have constructed is built out of a shipping container, and with proper maintenance; a little paint now and again, it should last us 300 years. This structure is designed to take a shot at the "Quality not Quantity" mark, at the values embodied in aboriginal "7 Generations" thinking. We have a long list of companies that think this triple-bottom-line thinking makes sense, and they have helped us create this high performance demonstration unit that utilizes technologies that will quite literally blow you away."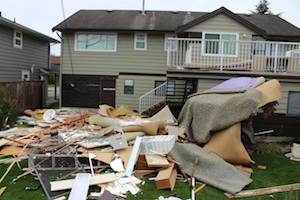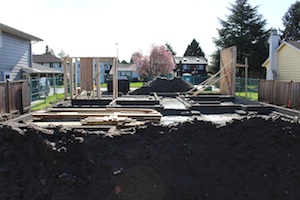 When asked to elaborate Robinson says;
 
"Ok sure, let's start with Panasonic's Vacuum Insulation Panels ( VIP's ), they're approximately R-63 per inch which if you compared it to rigid foam insulation alone has a value of about R-5 per inch. We actually also have foam installed by 4 Seasons Insulation to mitigate moisture on the container wall, and Roxul to insulate and protect the VIP's. Then there's the combination of Simpliphi Power's OES2 Lithium Ion Batteries, Canadian Solar's CS6X-P Solar Panels, and Schneider Electric's 5548 XW+NA Inverter, that together makes this unit pretty much self-sufficient from an energy perspective. We're able to capture and store most of our energy needs. I could easily go on, how about the 6.7L Ford F-450 that hauls this thing around, it's a seriously powerful diesel powered truck. We reached out to our friends at Key West Ford, Big Tex Trailers, Dewalt, Thule, and Kitt Equipment and they helped us source the vehicles, and tools, that can handle the job requirements"
 
The triple-glased Argon filled, Vinyl-exterior Fibreglass-core Euroline Windows that comes in around R-8.5. We're using EnOcean technology to remotely control our lighting systems that were created by EchoFlex Solutions from Squamish, BC. We have used top notch "business" IT guys KDTS, and we even have our landscaping cared for by the only company that I know of that's all electric – The Silent Gardener. They make next to no noise, and no pollution.  If Vancouverites truly want to be "The Greenest City", then they should make these guys the go-to company.
 
One of the biggest questions asked of Robinson at the event was; where did you get the container?
 
Robinson said;
 
"the 20ft high cube was sourced through our partners, Insta Space Storage and Global Container Corporation - experts in modular office construction and modification.
How do you heat the office?
 
"The unit is actually heated a couple of different ways; one is via the super-efficient Panasonic Air Source Heat Pump, the other is the super lightweight Nuheat in-floor radiant heating, which feels great when your wearing socks on the floor!
 
We really had a top-notch team behind us, from Chris Mattock who designed the Harmony House and our wall assembly, to Kimi Ito the structural engineer, Vancouver Renewable Energy ( VREC )who helped design the electrical system, and the guys at Feeny Power who managed to get all of the electrical equipment to play nice together – really a fantastic project, and I encourage everyone to come out and have a look, it might give you some ideas for your next house or for how we could work together on the INNOVATION in Industry™ series.
 
When pressed for more information Robinson said; "And let's be honest, I really couldn't have put this all together without a little help from my friends; Stephen Davis from Smoothwake Innovations did an amazing job on the stainless counters and window coverings with material supplied by Western Canadian Screens. Jas and Sonu ( J & S Doors ) have done a great job on the high gloss cabinetry, Mark Eglington and the Euro-line Appliances guys have a Kompact Kitchen that is arguably the best use of space I have seen in a kitchen, The Steel Guys fabricated some beautiful lightweight aluminum stairs, and we had them powder coated by Apex Finishing – Powder Coating is very cool, you should see it in action – very little waste and the whole process takes about 2 ½ hours – amazing! "
Robinson also says that there are many potential problems that could be solved with this type of construction including; "Laneway Housing, Disaster Relief Housing (for Syrians, or any population in need of short to medium term safe and cost effictive housing, In-Fill Housing, Remote Worker Camp Housing, and of course Recreational Properties." He says; "there's really no shortage of applications" and finishes the conversation with a quote from Benny Bellamacina, pausing before saying; "we're only limited in life by our imagination."
For more information on the INNOVATION in Industry™ series or to get your company involved, see: www.innovationinindustry.com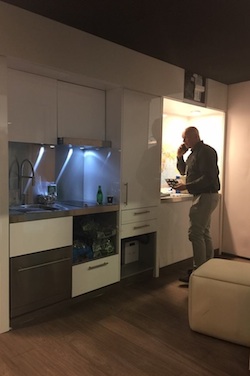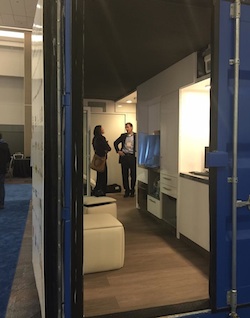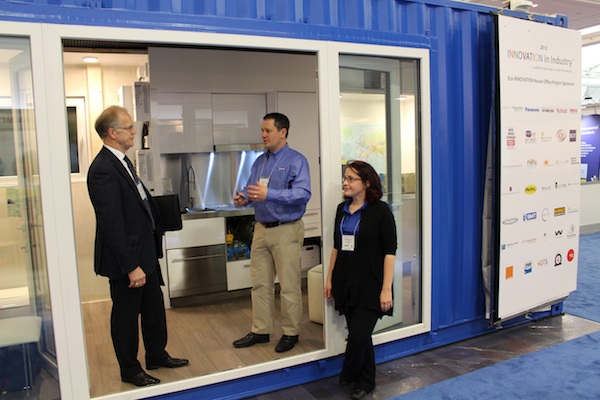 Jason Teetaert, and Tenille Wood share information with Thomas Gradin about the Smart Home/ Office Design features, including SMT Research monitoring equipment – moisture and leak detection equipment that can tell a homeowner by email or text message within milliseconds that they have a problem with water.
Speaking with Sustainability Television, Teetaert made a number of observations about his company's involvement in the the conference and Expo saying;
"Globe exhibitors and attendees alike came from a wide cross section of business and government - all of which had varying views on what sustainability would be in the future, and this cross pollination of people and ideas is really what is required to move large world focused objectives forward. It's interesting for us because SMT usually attends very focused niche market trade-shows, but Globe 2016 showed us how much we could spread our wings within the sustainability conversation. Our roof leak monitoring solutions can be used to reduce the risk to green roofs, and our wall performance monitoring systems can be used to prove out how building systems are performing. End users want to see measurable results for their decisions and actions, while having peace of mind that they are doing construction right."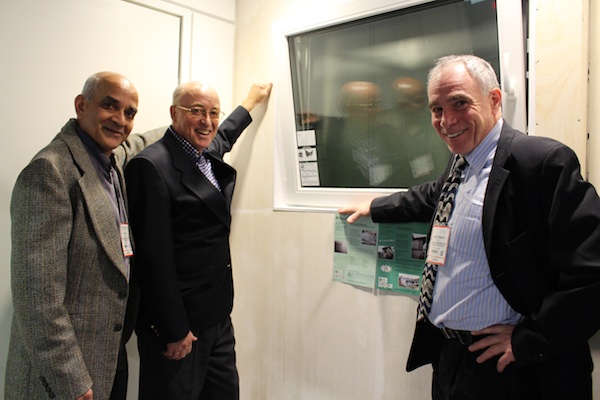 Members of the Board of Directors of the Magnesium Oxide Cement Association of Canada show off practical use of wall board supplied by
MagO  Building Products
.
For more information visit:
www.mocacanada.org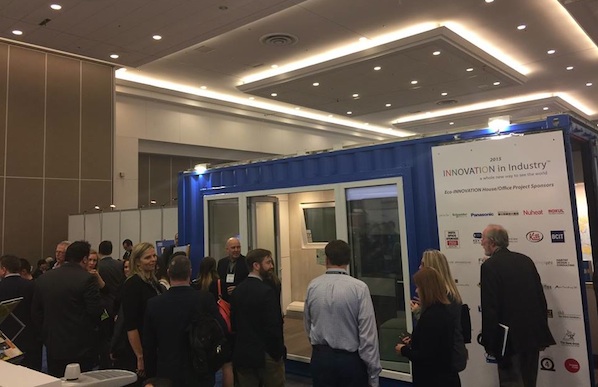 Visitors que up to tour the mobile office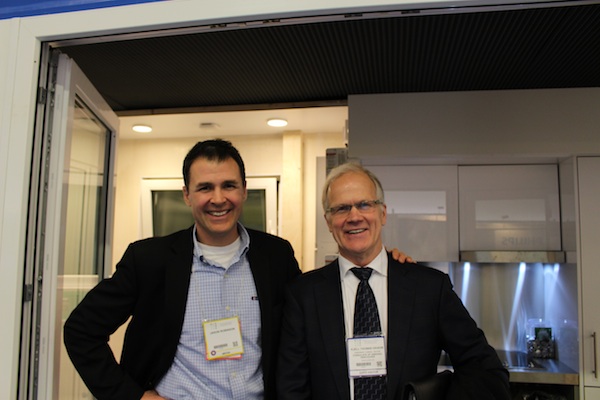 L: Jason Robinson – Founder & CEO, Sustainability Television
R: Thomas Gradin – NHL Scout (Vancouver Canucks) and Honorary Consul General of Sweden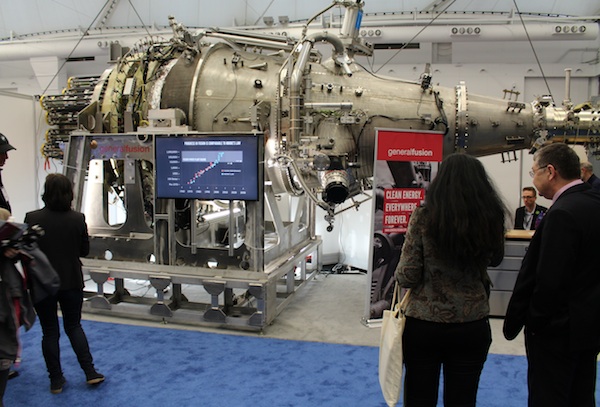 One could definitely not miss the General Fusion's 18 ton reactor on the Expo floor.
To learn more about
General Fusion
check out:
www.generalfusion.com
And this Ted talk by company founder Dr. Michel Laberge:
http://bit.ly/1gPidWV
Manitoba based
Curry Industries
is tackling phosphorus and nitrogen wastewater runoff problems in agriculture with their proprietary Cattail Bioplatform Harvesting System.
For More info see:
www.curryindustries.com
In addition to the Innovation Expo, was the Powerhouse Global Demonstration Pavilion where many new British Columbia companies are tackling some of the biggest challenges today including companies like Nova Scotia based, Carbon Cure, a company  that recycles waste carbon dioxide into concrete in the from of calcium carbonate. The Carbon Cure product has a lower carbon footprint and is up to 20% stronger than traditional concrete.  
The Innovation Expo stage also featured many terrific talks like:
- Taiwan's Eco-Built Power Station,
- Using Advanced Visualization to Drive The Next Stage of Sustainability,
- BCorp Movement: A Powerful Disruptive Idea For a Better World hosted by BDC: 
[ VIDEO LINK ]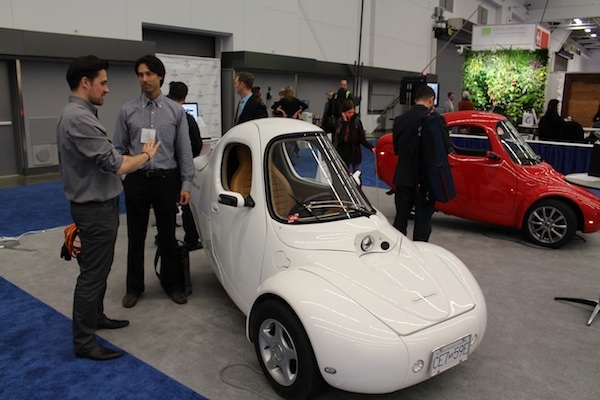 L: Christoph Koch – Meccanica Electricca R: Francisco McDugall – Mesh Food Exchange
 
In the market for an electric commuter car?
Vancouver boasts two new startups offering individualized electric transportation. Velometro and Electra Meccanica "Solo". Director of Retail Operations for Electra Meccanica, Christoph Koch says; "83% of the people in Vancouver are driving to work alone. Electra Meccanica provides a solution." He references a CBC article on the subject and continues on to ask conference attendees like Francisco McDugall; "Be honest with yourself. How often do you use your car alone? Koch says; overwhelmingly the answer he gets is: "a lot!" So for many people he says;  "SOLO - just makes sense. "
 
For more information or to reserve your Solo go to: www.electrameccanica.com
Conference attendee Francisco McDugall - Co-Founder and Chief Technologist of Mesh Food Exchange says he definitely see's a market for individualized electric transportation solutions, and goes on to explain that connecting people with the products and services they really want is really big business.
 
"Whether it's low cost, low emission transportation options like what Electra Meccanica offers, or like what our company [Mesh Food Exchange] does, there are opportunities for business that people are just beginning to recognize."
 
McDugall explains that Mesh Food Exchange is a new B to B matchmaking platform for Food Waste. He goes on to say; "The market we are talking about is Billions of dollars, and societally everyone loses with food waste; in fact if global Food Waste and Loss was it's own country, it would be the third largest Greenhouse Gas Emitter on the planet."
 
McDugall says; "Mesh will become the Uber of Foodwaste." "With countries like France making Food Waste illegal, we are about to see a massive shift in how food is handled, consumed, and no longer taken for granted. Businesses will profit greatly from increased efficiencies, interconnectedness, and even legislation."
 
For more information about Mesh Food Exchange visit: www.meshxchange.com