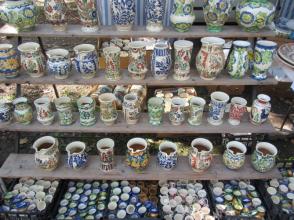 Have you ever thought about sustainability from a historical perspective? How one nation or another may have made their clothing and household items? What people ate? What the objects they used looked like or even how their food would have tasted?
The Craftsmen Fair is proof that many of these historical and sustainable traditions are still alive and well in Romania. Each year, around the 3
rd
week of September, attendees to the fair have the opportunity  to learn many of the techniques for creating objects like those made in the "old times" and to eat some of most popular Romanian dishes from the past.  
This year marked the 13
th
annual gathering of the open-air Craftsmen Fair and featured more than 50 artisans from all over Romania.  All were eager to share their home-made products: clothes, shoes, hats, rugs, decorations, pottery and traditional food.  This year's gathering was held at the
Banat Village Museum
,  the perfect location, as it's proximity to the nearby the Green Forest of Timisoara city made for an authentic return to historical values.  
From the recent historical perspective the most important piece of clothing present at the fair was the so called "
la blouse
Roumaine
" so coined by the painter Henri Matisse in 1939. That was the time when "ia" (original name in Romanian) became very well known internationally. Over the last twenty years, designers like Yves Saint Laurent, Jean Paul Gaultier, Oscar de la Renta and Tom Ford recognized the value of this unique blouse and chose to introduce it in their collections. Traditionally, "ia" is made out of natural fibers, with embroidery symbolizing the perfect equilibrium of natural beauty, durability and popular appeal.  
In many parts of the countryside Romanians prefer to see their clothes made only from natural fibers:  home shoes and vests made from wool, hats made from straw, handbags made from different natural materials and the list can go on.
Women sewing "la blouse Roumaine"
Some of Romania's famous blouses at the fair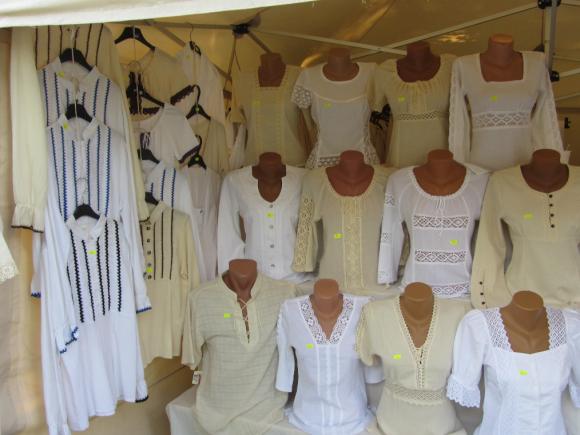 Home shoes made from wool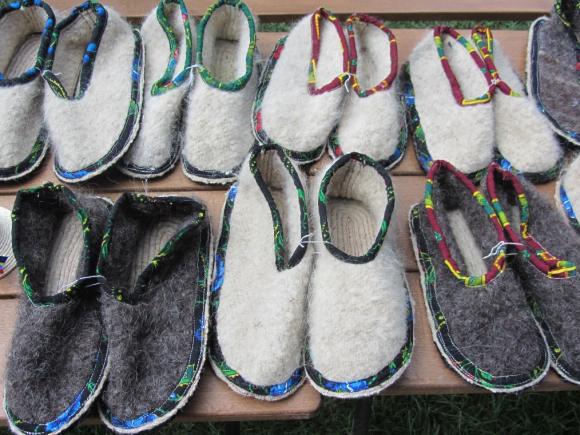 Vests made from wool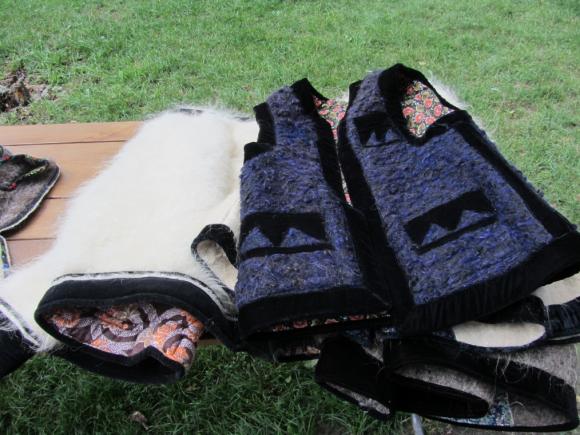 Hats made from straws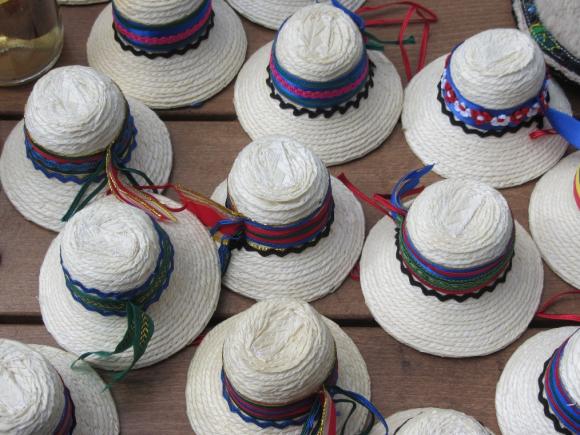 Traditional handbags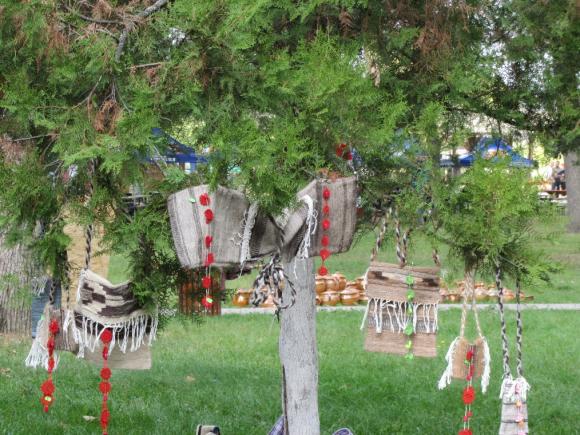 The fair also provided an educational opportunity for the little ones. One woman, Maria Robescu who was clearly passionate about popular regional costumes, found an ingenious way to educate and capture children's imagination… with dolls: "Look at this beautiful map; from where you want your girl-doll to be?" she said to one little girl, pointing to the map and enumerate the regions. The girl opened her eyes widely and spoke with a low voice: "but mommy, the girl needs also a boy with matching clothes"…

Regional costumes map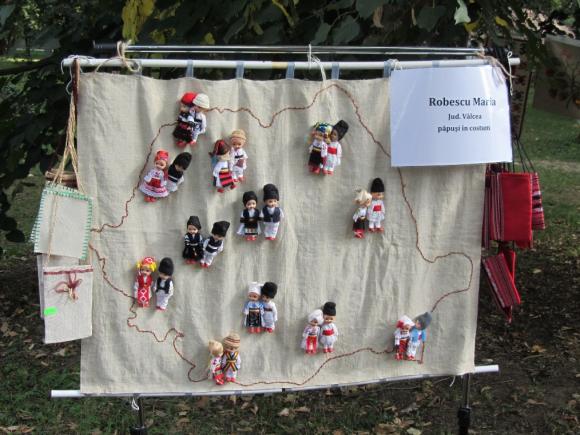 Young girl choosing her traditional costumed dolls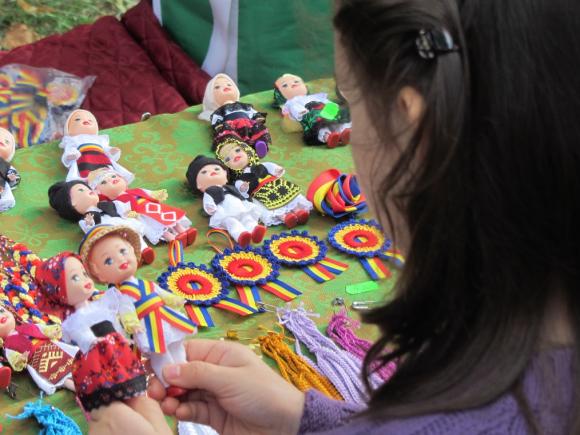 Traditionally sewn rugs, carpets, bookmarks and string knit decorations are still very popular and very trendy today. Many of the tourists visiting the fair purchased one or more of the hand-made rugs to take home with them, and the live demonstration of how a bookmark is created attracted quite the audience.
 

Woman sewing a traditional bookmark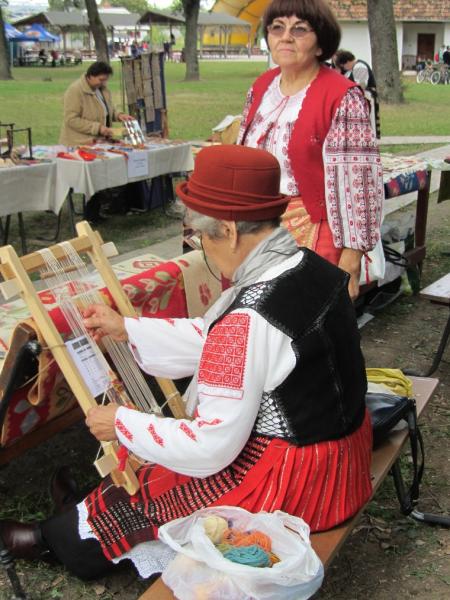 Bookmarks and small decorating rugs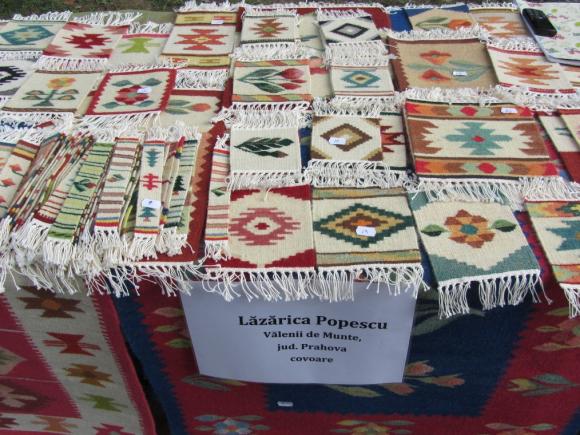 String knit decorations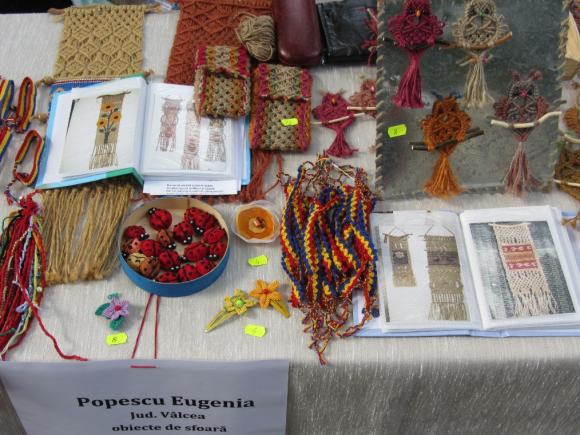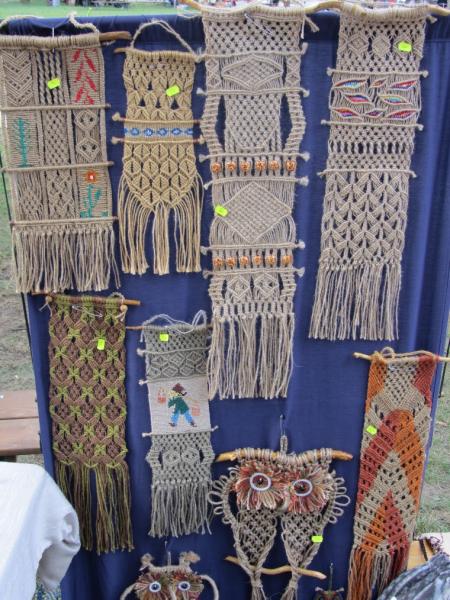 Romanian pottery is well known worldwide and as a 4,000 year old tradition has become recognized almost like a national brand. The ceramic pots and decorations are mostly made today by people passionate about this art as it takes traditional knowledge, and many years of dedication to become a master in the pottery business. Many of the local vendors mentioned that demand is so good that they are even go overseas, to sell the products at international fairs.

Traditional pots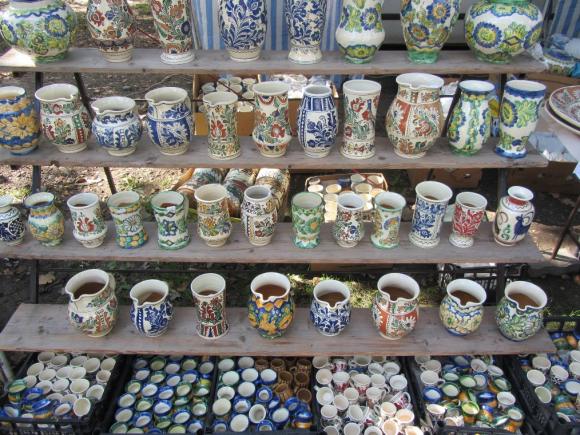 Small decorating pots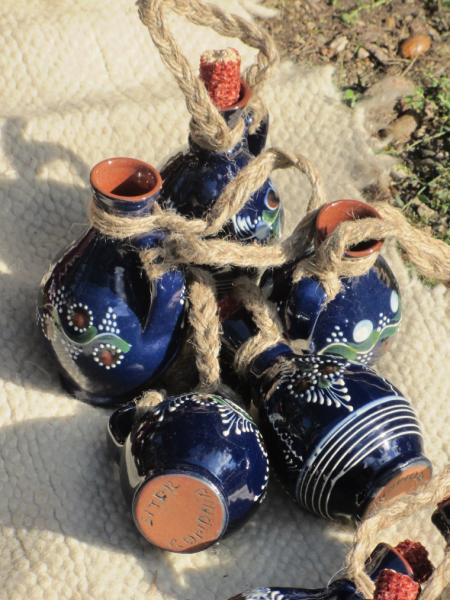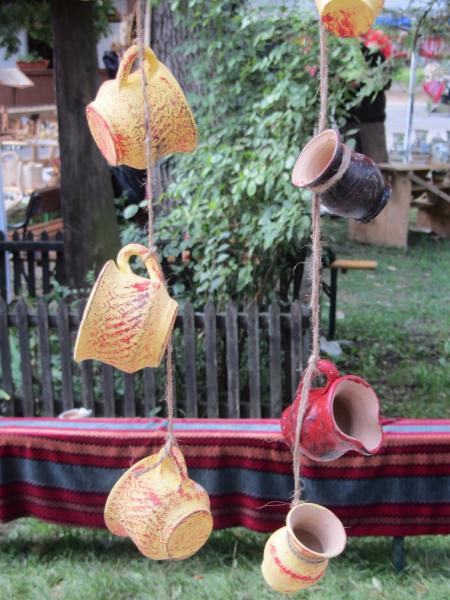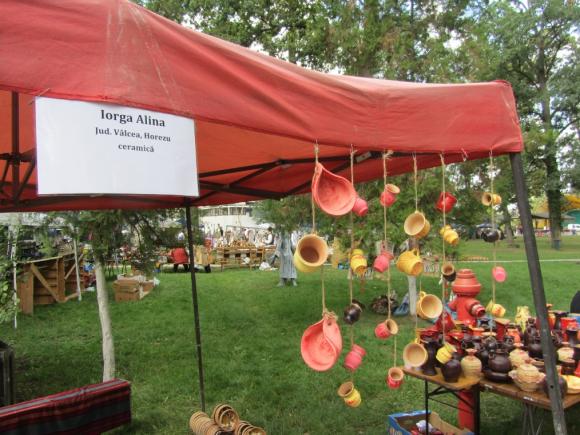 Pots display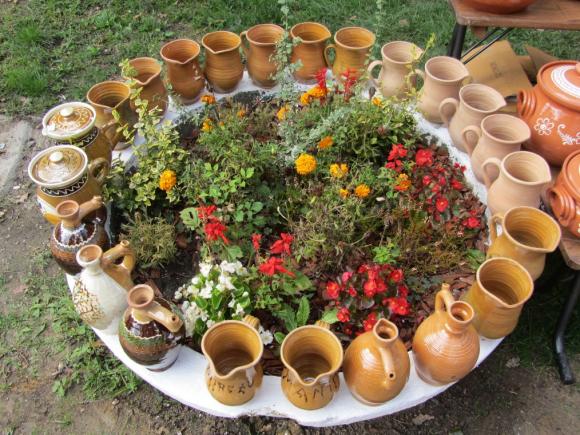 Ceramic decorations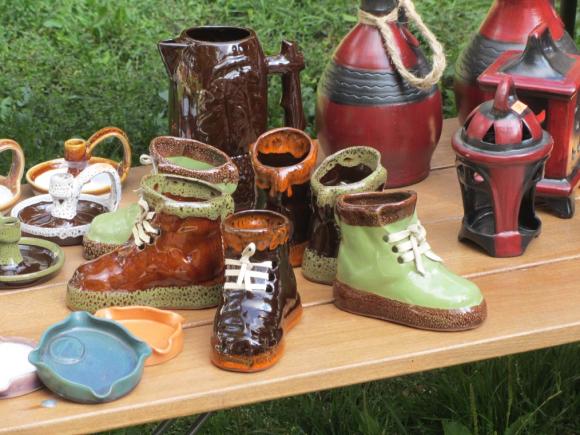 In Romania it is said that the best natural and tasty food is cooked outside, in a ceramic pot, stirred with a wooden utensil, and served in a wooden or ceramic plate. At the Craftsman Fair, you have the chance to try these traditional dishes and if you arrive early enough in the morning you (as I did) then you can also see the whole cooking process.
 

Wooden utensils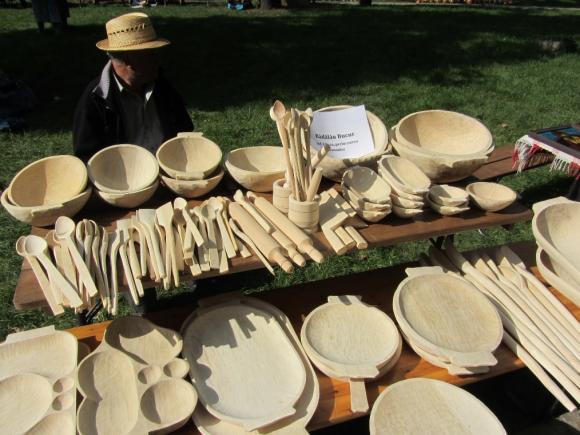 Romanians love home-made food and that is one the main drivers for the preservation of the traditional methods. As a Romanian I have to say there is no cheese like the Romanian one; fresh made from the milk of cows, sheep and goats grown by classical ways. Once upon a time everything was grown organically, and here in Romania organic is still a part of everyday life for many Romanians.
Author's note: If you come to the Craftsman Fair, everyone must taste the "bellows cheese in tree bark" and the "smoked yellow cheese" – absolutely magnificent!
And let's not forget about the home-made jams from fresh picked-up fruits and which are not missing from any household. Speaking with one of the vendors Emil Tamasan I was told that he was a regular attendee of the fair;
 "We drove for six hours to come here and we are waiting for our usual customers to come. We brought also fresh plums this time. Please, taste. You will become for sure our usual customer."
Emil and his wife Gerlinde come a long way to meet the growing demand for fresh local homemade jams and fruit products.

Usual products found at this fair: home-made jams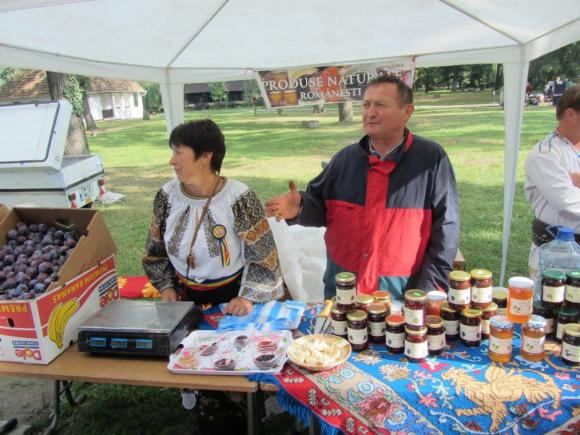 Romanian cheese made by traditional methods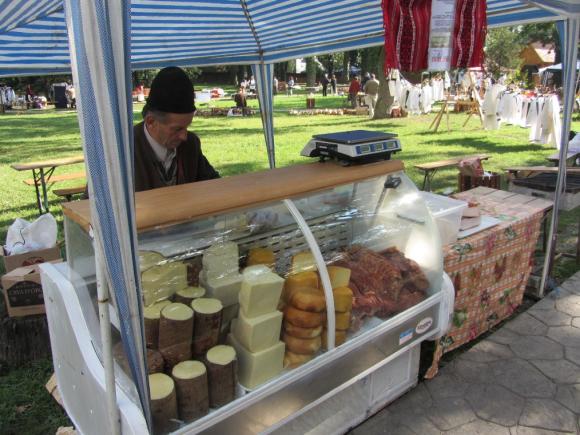 I heard one of the visitors saying "Tasty food is something that everyone appreciates "natural" defines it, that's really what we should look for."
Romania is one of countries where modern culture embraces traditions and the natural way of living is still not forgotten. If you visit a Craftsman fair, you may be surprised to find the passion and the faith of the artisans are transcending through their kind words and beyond their products and into your heart. We just need to keep that going. And we also need to learn that a good way of living is only the sustainable one.
For more on the event see my video: 
https://www.sustainabilitytelevision.com/video/craftsmen-fair-timisoara-...