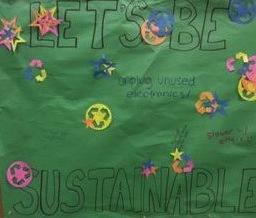 I learn when I don't think about learning. I am not the person to be confined in within a box. It's better if it is a library of knowledge that I have. But it is best if I immerse myself in the experience of learning. 
But how am I going to be in the process of achieving that goal?
I am not satisfied with the finiteness of the word "achieved". I am more intent on considering goals in the syntax of the infinite. That is, I am always in the process of achieving. Bruce Lee once said "There is no such thing as maturity. There is instead an ever-evolving process of maturing. Because when there is a maturity, there is a conclusion and a cessation. That's the end." I don't just say that there are avenues of opportunity ahead of me, I let myself be immersed in the avenues of opportunities. Because then, I can think less about the avenue of opportunity than where it will guide me like a river. 
I came up with the idea of a Green Photoblog while eating at a small bistro along W Broadway one evening. Sustainability was definitely something that was on my mind back then, from the Environmental Club that I attended in high school, to the classes focusing on Geography, the internships, the countless treks into the Pacific Spirit Park, the mix-and-mingles with the folks at a Green Drinks discussion session, you name it. I saw a tissue dispenser with its description stating that the tissue paper within is made of mostly recyclable material. I let my instinct to archive and learn take control of my mind as I reached for my camera to snap a picture of it.
A solar powered electric trash can. Snap. Archive. 
An upcoming Sustainability Fair at UBC. Snap. Archive.
A UV-treated water dispenser, with a numeric counter that states how many plastic water bottles one would save if they utilize this machine. 
Snap.
Archive.
My photoblog in my Dropbox is modest at best, but it is definitely growing. I encourage environmental thinkers from all walks of life to build upon this project, and be your own "green tourist" wherever you are.
https://www.dropbox.com/sc/cr9l3j4sk7osetl/tb_EvzmzIz?n=8965584