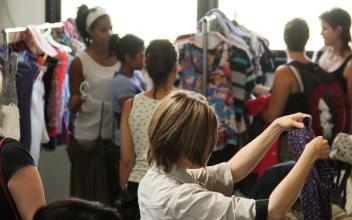 When sorting through your closet, it's easy to see the items that you don't wear as junk that no one would enjoy. However, your trash could be another person's treasure. Rather than throw away rejected garments, why not recycle old clothing by trading it for new pieces with this year's Frock Swap? Once Loved Threads founders Marjolyn Ustaris and Danielle Ow started the Frock Swap as a chance to trade some of their own pieces for new clothing items, and since that first swap in 2008, the event has only grown. Danielle and Marjolyn are constantly evolving and improving the show, upping the quality of the experience each time.
In the beginning, the swap was just a fun party event for the ladies and a few of their friends, but they began to realize the sustainable appeal of a large-scale frock swap. Now, each swap features around 1500 articles of clothing, there is  a men's swap, the "Jock Swap" in the works, and there is a VIP program, Rock the Swap, where 30 swappers gain a half hour head start on other swappers for an increased fee.
People can use the Frock Swap to give their once-loved items a second chance with a new owner, rather than throwing them away. Also, rather than conforming to consumerism, you can renew your wardrobe by taking on other people's used items. Not only is the Frock Swap is affordable (it's only $4 to register) and sustainable, but it's also a fun event that features snacks, drinks, and other friendly swappers. Plus, any leftover donations are sent to different programs that need clothing donations, such as the Wish Foundation, Covenant House, the Women's Shelter, and Dress for Success.
The founder's favorite swapper items? MJ found the Burberry-inspired plaid scarf that she was wearing when we had our interview, and Danielle once found a gorgeous pair of brown suede boots with a stacked heel that fit perfectly. They also told me about a girl that scored a Betsey Johnson prom dress at a past swap!
Donated items can be clothes, shoes, accessories, bags, anything that is still clean, in good shape, and wearable. The girls ask that all swappers inspect their donations for stains and flaws and drop them off clean and folded, ready to go! There is a maximum of 15 items per swapper, and swappers receive one ticket per item donated. If you donate 5 items, you can take home up to 5 new items for your spring enjoyment! MJ and Danielle ask that people try to stay on season for spring, but unique styles and vintage are welcome, as long as they are wearable.
Frock Swap 6.0 is a sustainable chance to pass on your loved articles of clothing and potentially gain new pieces that you will love and wear! Register online soon!
The Frock Swap drop-off is Saturday, April 16, at the Box Studios.
Frock Swap 6.0 doors open at 12:00 pm on Sunday, April 17 at Box Studios.
 
More info at http://frockswap.ca/
Register at http://oncelovedthreads.us1.list-manage.com/subscribe?u=11587c8f482c3321b8da5842a&id=f9df360a44  
Check out Marjolyn's fashion blog at http://mjfromaroundtheway.com/