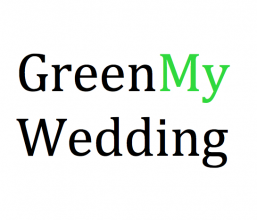 Hi, my name is Pamela - I am really interested in adopting new technologies and practices in order to make our everyday activities more sustainable and budget friendly. 
In this blog, I am planning on sharing eco-friendly tips and secrets so you can apply it to a very special day, your wedding day!
​
Definitely share this blog with others, and to send me your ideas too!!  Maybe we can incorporate your green ideas into the Green My Wedding series, and if we haven't thought of your idea we'll even give you credits in the show!!
The Wedding Website
Social media has allowed us to share the details of our lives with our loves one so why not apply this to your wedding? Couples can now make their own wedding webpage which can feature images of the ceremony and reception, event locations, your registry list, a comments page, and more! You can personalize to how much you want to share with the people who matter the most to you. And the best part is that it's FREE!
One example of how this can reduce your carbon footprint and save you money is the "photo sharing" option. How many times have you been to a wedding and not have been able to see the pictures after the event? Having a wedding website will allow to share those unforgettable moments while sparing the earth some unnecessary greenhouse gases and deforestation. Also, hiring an eco-friendly wedding photographer would facilitate this process because they usually give couples their pictures in high definition digital form in order to save paper and extra fuel costs.
So now you're probably thinking, this seems like a great idea but I don't have time to look around for more details! Don't worry because I did it for you! I did some research on different wedding websites such as eWedding, The Knot, and MyWedding and here's all the common perks you get from starting your website!
Easy and Accessible URL:
RSVP service for multiple events:
We all know that planning a wedding usually involves planning for other preliminary events. This additional services takes some weight of your shoulders by allowing you guests to RSVP to your engagement party, bridal shower, bachelor party and more!
Polls!
If you're an indecisive person like me and enjoy getting feedback from your friends, then this perk is just for you! You can ask questions like where to go for your honeymoon or suggestions for what food you should serve at the reception.
Guestbook
This service allows your friends to post comments about you and your partner!
Public/private option
Privacy online is really important when you're sharing intimate details about your special day. This website allows to you put privacy settings on your website so you can control who sees what.
Connect with other social media
There is an option which allows you to link your website with your twitter account! This is perfect for all you tweeters!
Photo sharing
As I said before, your personalized wedding website will allow to share your wedding day pictures with your loved ones.
Notifications
You will be able to get email notifications about activity on your website such as people commenting on your guest book and confirmation emails about invitations sent to your guests.
Keepsake option
If you don't want to have your wedding website on the internet forever, eWedding.com offers you the option to save all of the information on a CD. This means you won't lose all of the lovely comments your friends and loved ones post in your guestbook.
Upgrade options
If you don't mind spending some extra money then you can upgrade your website starting at $5/month for additional add-ons. More information here.
I hope these ideas will help you make your wedding planning process easier, more environmentally friendly and save you some money!!