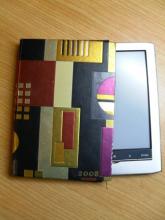 DIY – Case for electronic reader, make-up and more…
 
Calendars – we buy them every year and then we throw them away, no matter how pretty they might be, or how useful the imbedded materials.
 
I kept my 2008 calendar, because I somewhat had a feeling that I might craft something out of it one day. That day came, when I bought my electronic reader. As practical as it is, the screen is rather fragile and the cases that the electronic company designed didn't appeal to me, especially not at a price of more than 20 dollars!
 
So I thought of my old 2008 calendar and merely 20 minutes later, I had created a unique case for my reader. Here are some ideas to give you motivation for crafting your own…
 
The advantages of transforming an old calendar/book into a case:
It is unique (and you are guaranteed to get compliments for it)
You save money by not buying the case
You valuables will be protected in a stylish case designed by you
No one is going to expect something valuable to be hidden inside
You can refresh your favorite outdated calendars, and never let them go
You can finally toss out (recycle) old books that might have fooled you with an enticing cover.
 
You can do this craft with any other book as well. (If you have the heart to cut it open.)
 
What you need:
An old hardcover book or calendar
(make sure it is the right size for whatever you want to put inside)
Scissors
Liquid glue
Two small pieces of fabric
An elastic band, string, or ribbon
Step One:
Keep the front and back cover and cut out all the pages of your book or calendar except for the first and last one.
 
Step Two:
Take your fabric and cut it so that it will create enough space to open, and enough additional fabric to allow for secure gluing to the inside cover (this depends on the size of the book, suggested minimum of 1"). Glue the fabric to the inside of the hardcover at the top and the bottom of the book. This is to make sure that your valuables won't slip out.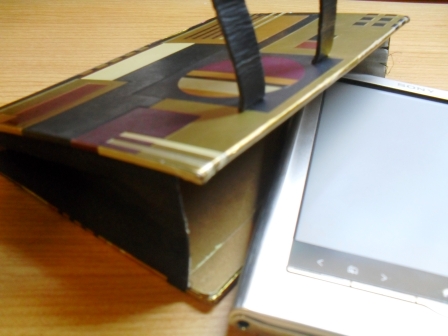 Step Three:
When the glue from step two has dried, glue the first page to the inside of the front hardcover. This is so that the part where you glued the fabric to the inside is not visible.
Repeat the same step with the last page and the inside of the back cover.
 
Step Four:
If your calendar already has a string, magnet or button attached to it, you can skip this step. You can just use that to close your case.
If your calendar/book does not have something to close it with, you should get elastic band, or string, ribbon and either glue it to the inside of you case or just wrap it around you book.
 
Yeah, and you are done!
 
If you have any other craft ideas, feel free to post them here. I'd love to hear your input.