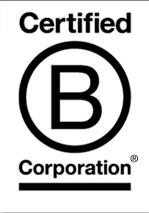 Do you ever find yourself, as I do, feeling cynical about marketing claims made by businesses about their "green" products, services, or operations?  Identifying "green washing", as it's termed, can be a significant challenge for the public when making decisions about which businesses to support.  It can often take a great deal of time and research to determine which businesses are making genuine claims.  Such businesses, once vetted, get my full support because I am confident that they operate with integrity.
 
Benefit Corporations
 
Two years ago it was with great interest that I learned about Benefit Corporations (B Corps), a new designation for creating transparent standards that identify and measure businesses that operate in socially and environmentally responsible ways.  The non-profit B Lab organization, which came into existence in 2007, has certified a growing list of Benefit Corporations, now numbering at 603 businesses across 60 industries, located mostly in North America (thus far).
 
So what is a B Corporation?  As the B Lab website describes, "Our vision is simple yet ambitious: to create a new sector of the economy which uses the power of business to solve social and environmental problems. This sector will be comprised of a new type of corporation - the B Corporation - that meets rigorous and independent standards of social and environmental performance, accountability, and transparency. "[1]
 
Additionally, "B Corporations address two critical issues:
1.  Current corporate law makes it difficult for businesses to take employee, community, and environmental interests into consideration when making decisions
2. the lack of transparent standards makes it difficult to tell the difference between a 'good company' and just good marketing"
 
Why do I think B Corporations are important?  Because B Corp certification is a tool for creating standards that can be measured; that go beyond just good marketing and that harness the power of business as a tool for driving positive change.  By providing impact assessments that consider accountability, employees, consumers, community, and the environment, I feel confident that any business bearing the Certified B Corporation designation is operating by a higher set of standards.
 
To become a Certified B Corp, a business must go through an assessment process and attain a score of at least 80 points out of 200 in order to be eligible for certification.  Here in Canada there are currently 40 businesses listed as Certified B Corps, including Sustainability Television™ (which received the 7th highest assessment score, at 129 points). 
Several Canadian B Corps, including Sustainability Television™, were singled out and honoured by B Lab this year for being "Best for the World" businesses in 2012.  More information about the Canadian honourees can be found in this Financial Post article[2]. 
 
Here is a list of Canadian B Corps: