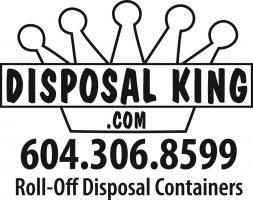 LOCAL DISPOSAL COMPANY GO'S EXPRESS
 
In and Out In 48 Hours Flat
 
Richmond, British Columbia, CANADA- Disposal King Ltd has launched their 48 Hour Express Trailer Disposal Service. Launched January 3, 2012 Disposal King Ltd introduces its newest member to the disposal team.
Servicing the Lower Mainland with over 12 Express Trailers, Disposal King Ltd brings a new definition to the word express, says Owner Miles Timmis. "The service is meant for busy people who need to get rid of their junk and do it fast. However, the service and level of professionalism remains at its highest."
"People should be able to get what they want in a timely manner hence the "Express" part without having to compromise good service and great prices."
Miles Timmis states "Our customers are very important to us so we wanted to give them a service they could benefit from. There are many disposal companies to choose from around town but we like to think were not just a disposal company, were in the business of customer service, making a difference in the environment and community and listening to what our customers want."
The 5x8 Express Trailer is perfect for garage cleanouts, drywall removal, household garbage, old mattresses, tires, furniture, construction waste and pretty much anything else you can think of. 
"We also offer our "Need a Helping Hand" service, this is great for those who need a set of hands to help them load and move any junk into the trailer. "
For more information on the Express Trailer Service visit www.disposalking.com or
call us at 604-306-8599