Vancouver's Clean Up the Oceans Concert spotlights solutions to micro plastic pollution
Upcycle the Gyres Society to host its second annual fundraising event in Xwáýxway Stanley Park.
North Vancouver based not-for-profit Upcycle the Gyres Society (UpGyres) is hosting the second annual Clean Up the Oceans Concert June 25. The 2016 concert will take place at the South West Rugby Practice Field from noon to 8 p.m.
This year the event features solar energy, local talent, international speakers, global food, vendor and information booths, day-long activities, kids' corner, secure bicycle parking and a beer garden.
Last year we proposed the concert could become an annual festival and this year we are celebrating our fourth anniversary by hosting the second concert for 1,000 people.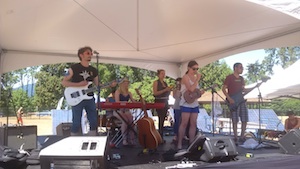 Operationally and logistically the inaugural Clean Up the Oceans Concert of July 4, 2015 was very successful. Almost perfect! The day was hot and sunny with a piercingly bright blue sky; the setup, the performances and the vendors went as planned but we did not attract the attendance for which we planned. We were late applying for the permit, we only secured it in mid-May. We had only a few weeks to advertise and ticket prices were high.
We started planning for 2016 since December last year, we secured our permit on March 10; started advertising that same day and tickets are $10 for adults and $5 for children.
UpGyres believes in the power of music and its ability to transcend cultural, political, health and economic barriers.  The aim of the 2016 Clean Up the Oceans Concert is to draw attention to, and raise awareness of, the seriousness of oceanic plastic pollution and provides ideas, encouragement and solutions to address these problems locally and worldwide.
This fundraising event enables UpGyres to tangibly pursue our mission of stopping plastic waste before it pollutes waterways and the oceans.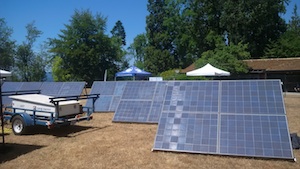 UpGyres 2016 Clean Up the Oceans Concert celebrates Vancouver's diversity and involves musicians in creating value to the ideas presented; encouragement and solutions to address the problem of marine plastic pollution in the Greater Vancouver area and to influence Vancouver' society through art, culture, and community engagement and participation. Concert participants will find out ways to stop plastic micro fibres and beads from entering the marine environment. 
Funds raised from this initiative will be used to develop a study to quantify and qualify micro plastic particles (beads and fibers) in the waste water discharges from the shipping industry and from waste water treatment plants. Funds will also be used to promote the purchase, installation and use of washing machine lint filters for residential and commercial use and develop a program for reutilization of this waste material.
One of the society's goals is not only to prevent plastic from polluting the oceans but also to bring in solutions for transforming discarded plastics into resources and revenue streams. We are working to incorporate this recovered micro plastic resource back into the value chain of textiles and construction materials.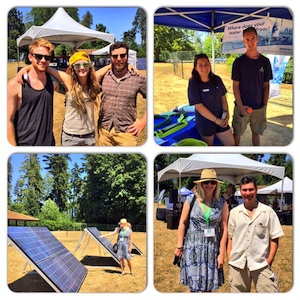 Through its repeat execution, the event will also activate an important public space and enhance the vibrancy of the city. We are confident that the initiative will be executed successfully and will be a lot of fun sprinkled with valuable information for all ages. We already have requests to perform in 2017.
Vancouver's Boy Breaking Glass, Gabe & the Oh Yeah's, Amanda Wood and the Blues Piggies, Warren Dean Flandez and the Top Line Vocal Collective, Urban Myth and DJ Stamina will perform at the 2016 Clean Up the Oceans Concert. Tickets $10 for Adults $5 for kids, with proceeds going to UpGyres are available for sale on-line now at: buytickets.at/upgyres/
Visual Artists Christian Klausen who designed the concert's poster and Winadzi, and Martin Williams will be creating and exhibiting on site.
GreesnSeeds Music Society is hosting a kids' corner and the Vancouver Aquarium, Canadian Parks and Wilderness Society and Science World will have day-long activities for all ages.
Cäsar Jacobson, former Miss Canada 2013, writer, coach, speaker entrepreneur and philanthropist involved in the United Nations Entity for Gender Equality & the Empowerment of Women with disabilities is the concert Master of Ceremonies.
We urge concert goers to walk, cycle, or take public transit and bring reusable water bottles to the event. For everything that is disposable and single-use plastic, we need to pause and think, reconsider, refuse it and find reusable alternatives.
On its website, UpGyres has details about the activities, performers, sponsors and partners of the event. There still are opportunities for sponsorship and becoming our partners. Contact Jose Luis Gutierrez-Garcia Project Director by writing to joseluis@upgyres.org or by calling 604 984 4327