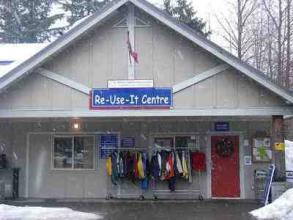 RE-USE-IT!!!
The Re-Use-It Centre in Whistler, B.C. was built by the Resort Municipality of Whistler in 2000, to help keep useable items out of the landfill and to help fulfill the community's 2020 Sustainability plan.  Since that time the organization has helped thousand of community residents and guests through a simple mathematical equation that might look somthing like this:
People + Used Items + Generosity ÷ Sorting + Re-selling + Recycling x Hard workers and Volunteers
= A Hugely Successful Re Use It Center
The Centre takes in goods and resells them back to the community.  With this Ebb and Flow system, the community decompresses their wardrobes, household items, last year's ski and snowboard gear to the back door of the Re-Use-It Centre. This humble center is then able to generate enough income from these low cost items re-useable items and redirect the profit flow to support 75%! of the *Whistler Community Services Society's budget (WCSS).
The WCSS then distributes these funds to 25 Separate Programs, each supported and enabled to continue serving the community.  Examples include; the Emergency Financial Assistance, The Food Bank, Youth Outreach, and Whistler Welcome Week - all this and more have 75% of it's funding supplied by one organization!!!  Believe it - it's true!!!
Imagine if other communities could do the same, why not?
As the thrift store continues to serve, landfills become a thing of the past, basic needs are met for residents, and the community can smile upon a more sustainable, community oriented future - a future where everyone's needs are met.
Simply shop at your local thrift store and be of a generous support to them, it will come back to you ten-fold!!
* Whistler Community Services Society is a registered non-profit society formed in 1989.  Their"mission is to promote and support social sustainability in Whistler, by providing programs and services which improve the ability of Whistler Community Members to meet their needs and enhance their lives".
http://www.mywcss.org/reuseit.html