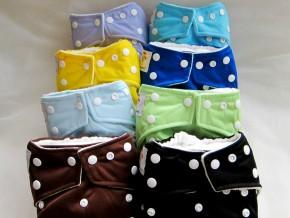 My wife and I have decided to try cloth diapers instead of constantly consuming disposable ones.
Sarah and I were blessed with a little boy on September 20th and in few short weeks since his birth we can't believe how much waste is created from using standard disposable diapers.
In fact we had seen a documentary, and sadly the name eludes me, however it basically showed how much of product xyz a baby consumers during his life.
As you can imagine, Diaper hill has huge! We've purchased the standard disposables and some biodegradable diapers for the first six weeks or so, but then plan on moving to cloth diapers.
We don't have any previous children and no experience with cloth diapers, however we feel it is the right choice, both economically and environmentally.
We've heard great things from other parents about Kawaii Baby Diapers, so we've decided to use that brand. They are colourful and cute and come with several liners for each diaper. I haven't quite figured out how they are used or anything like that... but I plan to write about it after we've started to use them.