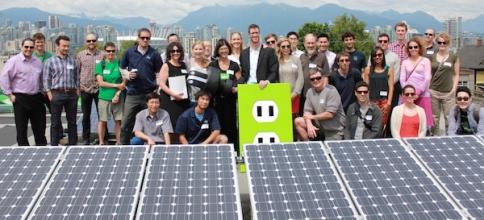 Vancouver is alive with innovation, creative minds, and great examples of sustainability being put into practice. From solar panels to oil powered cars, and tiny house community centres - you'd think you were living the dream if it wasn't for the rain and high cost of living.  But there are lots of folks who are reducing, reusing, recycling, and rethinking how they do everything creating new possibilities to solve even the toughest challenges combining knowledge from the past and the goals for the future into real sustainability - today!
VANCOUVER, CANADA - June 11, 2014
MEC - Mountain Equipment Coop Vancouver (http://bit.ly/1lgPbBk) was the beneficiary of a 3Kw solar array that the store acquired from it's original location on the SPEC Energy Demonstration Centre and was assisted with funding from Bullfrog Power's "Bullfrog Builds" Renewable Accelerator program.  Bullfrog Builds, provides critical construction and development financing to renewable energy projects all across Canada. (http://bit.ly/XtoDYw)  
Founded in 1969, The Society Promoting Environmental Conservation (SPEC) is one of the original non-profit charitable environmental organizations in British Columbia. SPEC has a particular focus on urban communities in Lower Mainland and recently moved locations creating the opportunity to re-use the solar panels that had been part of the Energy Demonstration Centre. (www.spec.bc.ca)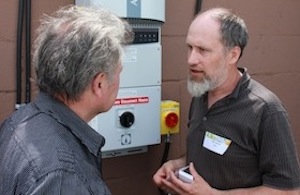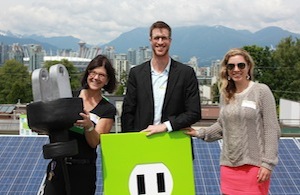 (Left) Rob Baxter, Co-Founder Vancouver Renewable Energy Co-op (http://www.vrec.ca) explains how a photovoltaic inverter works.
(Right) Shawn Henderson, Manager Mountain Equipment Co-op, Sean Magee, Director Bullfrog Power and Sara Blenkhorn, Coordinator Society Promoting Environmental Conservation (SPEC), pose on the roof of MEC-Vancouver with a fun-sized power plug for the launch event.
NORTH VANCOUVER, CANADA - June 20, 2014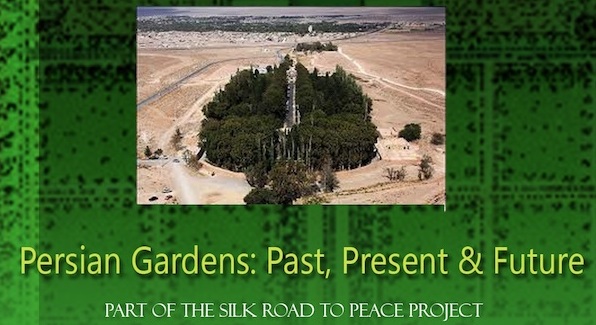 image: Jorge Ostrowski
Jorg Ostrowski is the president of ASH-Autonomous & Sustainable Housing Inc. and gave a stunning presentation at North Vancouver City Hall June 20th titled "Persian Gardens: Past present & Future". Originally from ​Heidelberg Germany, Ostrowski has been planning sustainable communities for more that 40 years. From regenerating the Toronto waterfront to providing a new vision for Puerto Princesa, the largest city in the Philippines, Ostrowski is a big picture sustainability hero.
Ostrowski's presentation highlighted a wide array of topics showing advanced passive building and sustainable design techniques that were used thousands of years ago.  The methodologies ranged from amazingly simple to radically forward thinking features that were used to both heat and cool homes, provide protection for habitat, and even created a spiritual oasis for its patrons. Many of Jorg's presentation remarks led presentation attendees to rethink how they interact with the environment and how they could use the practical lessons learned thousands of years ago, in their own lives - today.
Some of those ancient methodologies and practical common sense thinking is being reinvigorated in Ostrowski's big picture "Silk Road to Peace project". The Silk Road to Peace is a leading-edge transcontinental RecoFit project of historic Caravanserai buildings along the ancient Silk Road the origin of which dates back over 5,000 years. The length of the project is more than 10,000 km in total distance along the ancient Silk Road from Istanbul, Turkey to Beijing, China.
(for more info see recent "Revitalizing Safe Havens Along the Ancient Silk Road" article here: http://bit.ly/1oF3rWP)
Ostrowski's work, lifestyle, and general demeanor seem highly consistent with his deep commitment to fostering peace and international cooperation. He arrived at his presentation driving his alternate fuel powered Volkswagen Golf. A vehicle that looks the same as any other Volkswagen on the road, except that this car runs on vegetable oil and leaves a distinct odour of french fries wafting in the air.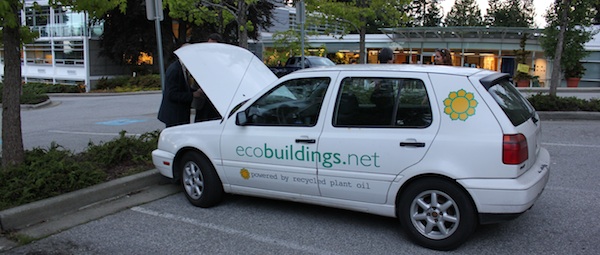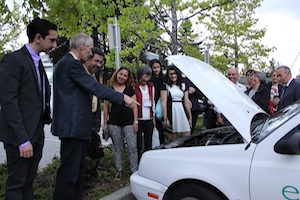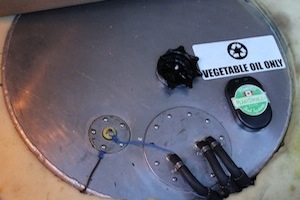 Jorg Ostrowski explains the workings of his vegetable powered Volkswagen Golf.
VANCOUVER COMMUNITY LABORATORY
The Vancouver Community Laboratory (VCL), a non-profit society provides a working space for its members to build, cut, saw, weld, and generally create projects they wouldn't be able to work on in an apartment or other small(ish) living space. (www.http://vancommunitylab.com)
 
Currently, there are two building projects nearing completion at the VCL. Both are tiny houses; Zee Kesler's Tiny House Project and John McFarlane's ​Filter Building, each with its own purpose, style, and charm. McFarlane (of Camera Buildings) and Kesler collaborated to create a custom tiny house design that makes use of reclaimed materials and according to McFarlane the Tiny Community Centre is one of a kind.  He says;
        "The Tiny House Community Centre is Canada's newest, smallest community venue and
         will be used for courses, workshops, art shows, and kids camps while showcasing the
         potential of tiny houses to solve the affordable housing and affordable space problems
         facing many communities in a flexible and sustainable way."
Kesler, is a community based Artist who is passionate about empowering people.  She prides herself on getting "cultural and creative communities to draw on their own ideas, talents and stories as the central inspiration and subjects of the projects I create". 
Zee Kesler like so many in Vancouver are working on Big Ideas, and in Zee's case through her Tiny House Community Centre. Kesler describes the process in her own words:

        "One year ago I had an idea that I had no clue how to execute: building a tiny house on
        wheels as a mobile community based art facility. When I first dreamed up the idea, the cost,
        the time and the physical undertaking of such a labor intensive project didn't seem feasible,
        especially since I had never built anything before! 
 
        I really wanted to make it happen, so instead of focusing on what I couldn't do, I focused on
        what I could do: organize and bring together groups of people to share skills.
 
        So, this past summer, I found some amazing and talented teachers, rented a yard and
        facilitated a tiny house building workshop series. The workshop helped offset the costs of 
        the project, but also allowed me to gain building skills and share this learning with other
        people who want to learn basic construction. Two weeks ago, we completed the final
        session of the workshop series and we are currently completing the final stages of the tiny
        house which is now known as the Tiny Community Centre! 
The Tiny Community Centre
is designed to be a mobile off grid "tiny house" that acts as a space for initiatives to engage with the community at little/no cost.  Since its on wheels, Zee says "
        it can re-locate to various locations such as urban farms, or parks easily by hitching to the
        back of a large pickup truck or cube van.  Inside the Tiny Community Centre, local makers
        of all disciplines will host cross disciplinary/collaborative workshops with the public.
        This cross pollination will bring together communities & generate a greater awareness &
        participation in local food, arts, cultural & green initiatives in Vancouver."
For more on Zee's Tiny House project see her video http://bit.ly/1lMV1kD and website: http://www.zeekesler.com/#!blog/chde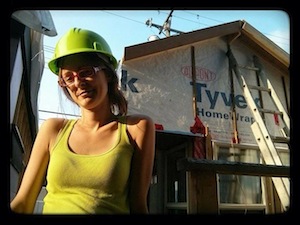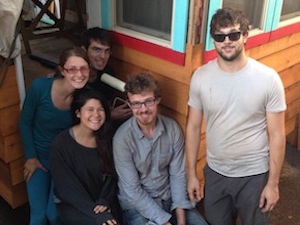 Image Credit: Zee Kesler (left) Zee and her team (right)
In addition to designing Zee's Tiny House, John McFarlane, President of Western Camera Buildings (http://camerabuildings.com/) has also been hard at work designing and building his second generation version of the "Filter Building". Designed to be an adequate workspace, with ample light, and many sustainability features - the Filter Buildings also have a highly attractive retail price ranging from $25,000 to $50,000 (depending on the features you choose). 
Upscaling from the Filter Studio to the Filter House provides owners with a full kitchen, bathroom, a roll-away bed high-efficiency LED fixtures, built-in storage, and the best compact composting toilet on the market. The Filter House also comes with a louvered cedar screen that provides both privacy and passive solar shading while the wraparound windows fill the space with light. Both the Filter Studio and Filter Home are built off-site and arrives completely finished, ready to move in.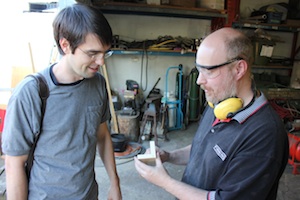 (L) John McFarlane with his Filter House design (R) John McFarlane 
McFarlane's buildings exemplify the sustainable lifestyle ideal. They have a modern chic style, they're cost efficient, comfortable, and in the case of the example below are readily transporatable as this version is built on a trailer.
McFarlane admits are one or two drawbacks; the first being that current legislation in most areas only allows tiny houses to be used as offices, recreation vehicles, and in Zee's case a mobile community centre.  The second drawback is that you'll have to put in your order soon if you want one as the list of interested customers grows every day.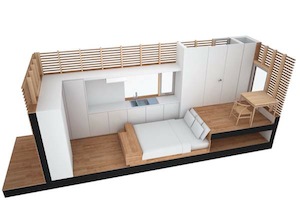 images credits: John McFarlane (L) Filter Studio (R) Interior, Filter House
Related Links:
@bullfrogpower
@mec
@VancouverCoLab 
@tcc_van 
@EcoHomeASH
@SPECbc 
Written by: @JasonLRobinson
Unless otherwise noted images courtesy of Sustainability Television.