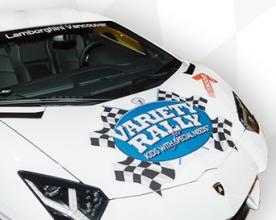 Start your engines
doing good for communities and the planet
By Jason Robinson
 
HELPING YOUR COMMUNITY
Vancouver is on the move this month with the inaugural Variety Rally to raise funds for kids with special needs. 
 
Not your typical fundraiser or car rally – to register in this event your team must raise a minimum of $25,000 to enter.  What does your teams 25k get you?  Well, the big draw for this fundraiser is that proceeds go to Variety – The Children's Charity, helping children all over BC with special needs.  The event promises to be both engaging and fun for participants and spectators alike.  Hollywood celebrities will join rally teams as vehicle navigators in the challenge to complete the events. Rally teams will have the opportunity to draft from the roster of participating Celebrity Navigators with the highest fundraising team earning the right of first draft pick during "The Qualifiers" pre-race Celebrity Draft Party.
 
In addition to raising the required goal of $25,000 in donations, entrants must also be a minimum of 19 years of age, and will be required to follow rally rules including driving posted speed limits between rally locations. Past rally celebrities have included; Goldie Hawn, Kurt Russell, Gene Simmons, and Eva Longoria. View this year's list of celebrities.
 
"The Variety Rally is a unique, exhilarating and memorable event that provides participants with two incredible days filled with fun and excitement," said Bernice Scholten, Executive Director, Variety – The Children's Charity. "Described as a high-end scavenger hunt meets 'Amazing Race', this event, featuring luxury vehicles, will challenge, inspire, and entertain."
 
"The Variety Rally is a unique, exhilarating and memorable event that provides participants with two incredible days filled with fun and excitement"
 
Co-Chairs Kyle & Janelle Washington and event organizers held pre-event launch parties at Lamborghini Vancouver and West Oak Restaurant signing up numerous teams for the star studded event.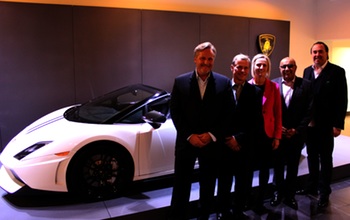 Richard Coglon, Drew Bonnell, Bernice Scholten, Asgar Virji, Joel Hock
 
To find out more or to register your team visit: http://www.varietyrallyforkids.com/
 
HELPING THE PLANET
Also kicking off this year is the Inaugural G Zero Championship Race Series.  Designed for those who are looking to feel the speed of the racetrack, this kart series is entirely powered by electricity and according to the organizers website: "The G-Zero Championships will be the "greenest" motor sports series in North America".
 
In our search for options beyond the current generation of karts, we discovered that yes it was possible to go just as fast as the current World Championship karters in vehicles that were powered by Battery Electric engines, (we are talking over 100 kilometers per hour). – G Zero website
 
All G Zero events will be free to the viewing public. However, to race you'll need a kart. The sticker price on a "race ready kart" will set you back about $15,000 USD, but once you have the keys to one of these beauties  - you'll have your choice of what organizers describe as an ever expanding series of races.  The local series (and first of it's kind) is slated to include; the Greg Moore Raceway, the International Night Market in Richmond, New Westminster, Vancouver, and Whistler Village. 
 


The G Zero race ready kart vehicles are produced by the EVC Racing, located in Indianapolis, Indiana - well known to race enthusiasts from around the world as the home of the Indianapolis 500. Building on the innovative thinking from their previous lives as engineering students from Purdue and Vanderbilt Universities – the EVC team are clearly proud of their accomplishments.
 
The most rewarding moments are receiving immediate feedback from our customers the instant they step out of our kart and remove their helmet; the "EV" grin is broadly plastered across their face and I know that our product excites them as much as it does our team.  – Grant Chapman, CEO,  EVC Racing
LINKS OF INTEREST
Karts reaching top speeds at Greg Moore Raceway in Chilliwack, BC: http://bit.ly/1iGVUqN
 
For more information on purchasing a kart visit: http://www.evcracing.com/store/
 
To get involved visit: http://www.gzeroracing.ca/