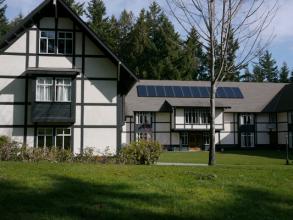 At a place that "values character as much as grades and community as much as self," it's not surprising that Shawnigan Lake School is embracing renewable energy technology and all that it signifies. The independent boarding school, nestled amongst 300 wooded acres on its namesake Vancouver Island lakeshore, works hard to showcase a commitment to the environment. "I think the idea of being a green school has appealed to us for several years, and we're proud of the fact that we're conscious of the environmental footprint we leave behind," says Ryan Panton, Director of Communications and a Shawnigan Lake alumnus. "Part of our commitment to the complete education at Shawnigan is instilling in students that the resources so many take for granted are finite. We want to be leaders, and want our kids to feel the same way."
Ryan explains that the school took the first step by developing a sophisticated recycling program that includes fertilizing their gardens through the compost gathered from their residences and dining hall. From there, they turned attention to solar, and in the last two years Terratek Energy Solutions has installed a 4.7 kilowatt solar PV (electric) array on the Shawnigan Preparatory Academy, along with a 12 collector solar hot water system on the Duxbury boys residence."We're a full-time boarding school of 450 students, so it's a great way to keep an eye on the financial side of things and save on energy costs," says Ryan. "But it was more important for us to set an example to the students, and our greater community, that we are aware of the amount of energy we use and that we do want to find ways to minimize it."
The final outcome is a highly visible statement to that effect, and one that Ryan says they're thrilled about. "There are no negatives to a project like this. The educational piece is so important, and that value supersedes any economic value we can get from it," he says. "As educators we have such an amazing opportunity to make a difference in the character development of the kids we're charged with educating." He says that with these systems they're able to expose kids to the important issue of the environment in a practical and visible way.
This is a perspective that is not yet common in a marketplace watching its bottom line and holding tight to return on investments. These days it is hard to find anyone who's not looking at the price tag first instead of embracing the ripple effects of a longer term investment into renewable energy. "Obviously people make decisions about dollars and cents," agrees Ryan. "But the youth at the school now more than ever are not just thinking about today and tomorrow, they're looking ahead to next year and to ten years from now. They understand that we need to change the approach to the way we live." He says that he sees students thinking about the community, locally and globally, and creating solutions that benefit society and make the world a healthier place.
Even visitors to the school have taken a keen interest in Shawnigan's energy saving initiatives. "These kinds of endeavours have an impact because the environment has become such a central focus for everyone," he says, adding that the visual nature of the projects help get people thinking about what they can do, or take home to their family, to join in the challenge. This is particularly significant for Shawnigan, as the school's student body is made up of young people from thirty-three different countries.
For Ryan, seeing the leadership role Shawnigan has taken on offers special personal meaning, both as a graduate and as a soon-to-be new father. "You get to the point in life where I'm at, and know it is important to think about the future and recognize that things need to change," he says. "So I share in the excitement of the school. It's so encouraging and inspiring to have our kids actively engaged in this conversation."
View more pictures of the school's solar installations here.