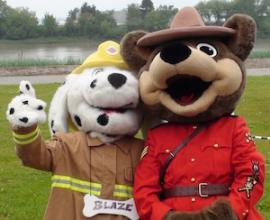 The SOS Children's Village British Columbia with the support of the Rotary Club of Richmond - held it's 6th annual SOS Children's Village Run and Walk on Sunday May 25th, 2014.  The Richmond Olympic Speedskating Oval provided the perfect setting for the run; an opportunity to get fit, support the SOS Children's Village British Columbia, and connect with local community service organizations and volunteer opportunities.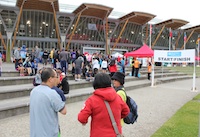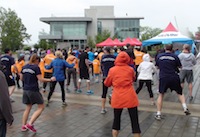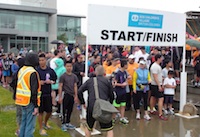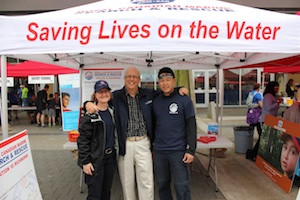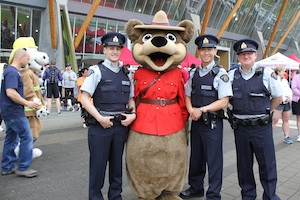 Left: Richmond Mayor Malcolm Brodie with two Royal Canadian Marine Search and Rescue volunteers (http://rcmsar.com/) Right: RCMP Mascot with Auxiliary and regular member escorts: http://bit.ly/1nxWzwG
Organized each year by a team of Richmond volunteers, and widely supported by the City of Richmond, and many community businesses and service groups this year their were more than 400 run participants, the highest turnout to date.
In addition to the 2,5, or 10k "fun-run/walk" attendees were treated to a number of sponsor community organizations, and performers including the award-winning, family-friendly, multi-lingual music of Charlotte Diamond.  Accompanied by her son Mark Diamond, Charlotte performed her song "One Big Family" written especially for SOS BC: https://www.youtube.com/watch?v=kvZ4iGZdW0Q
http://www.charlottediamond.com/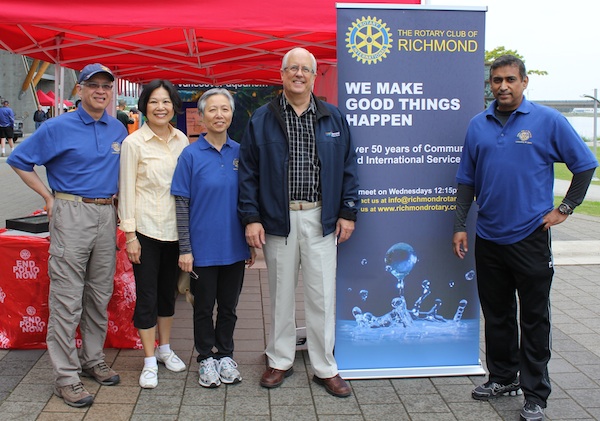 Chris Browne introduces Richmond Mayor Malcolm Brodie to Rotary Club of Richmond voluteers at 6th Annual SOS BC Children's Village run/walk.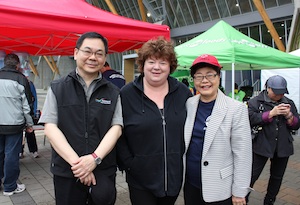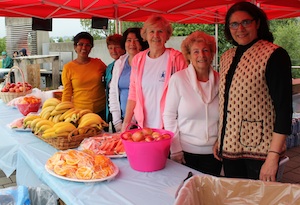 Left: Local dignitaries Richmond City Coucillor Chak Kwong Au, MLA Linda Reid, and MP Alice Wong attended the local community event and fundraiser in support of the SOS BC Children's Village. Right: SOS BC Volunteers prepare the after race snacks for participants.
About The 6th Annual SOS Children's Village of British Columbia
The 2014 event management was led by the Rotary Club of Richmond. All proceeds support SOS Children's Village BC's programs for foster children and vulnerable youth. The organizers work to create a very special community day for families, with games, refreshments and talented entertainers following the Walk & Run.
A few highlights from 2013:
- 5 families and 25 children and youth called the Village home 
- 6 families received support through Caregiver support services
- 48 children and youth received therapeutic services 
- 137 children participated in our After School Learning Clubs
- 100% high school graduation rate of youth in the Village vs. to 21% for BC youth in foster care 
- 28 explored the Sounds of Learning Program
- 20 children attended camps
- 27 youth supported by Youth Workers in the Transition to Adulthood Program
To find out more about The SOS Children's Village of British Columbia, to participate in next years run, or to become a volunteer visit: http://www.sosbc.org/  and http://richmondrotary.com/
Watch a video about The SOS Children's Village of British Columbia: https://www.youtube.com/watch?v=Q6OnU4FLXG8