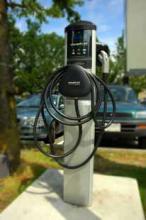 Vancouver, BC – Sustainability Television update
June 21, 2011
 
The City of Vancouver in partnership with BC Hydro and EasyPark announced the first two publicly available plug-in electric vehicle (EV) charging stations in Vancouver as part of a program to provide and test infrastructure encouraging the public to embrace more environmentally friendly transportation options. The initiative, called the EasyPark Easy Charge Pilot Project1, will see EV charging stations set up at various EasyPark parking lots around Vancouver in the coming months.
One of the goals in Vancouver's Greenest City action plan is to have at least 15% of new vehicle sales be electric vehicles by 2020. Having a robust infrastructure in place to accommodate this significant transition is critical, as Mayor Gregor Robertson noted, "We have a big focus in the city on walking, on biking, on taking transit, but we recognize that cars are going to be around for a long, long time and the key step that we need to take in planning and infrastructure now is to ensure we can get to the cleanest possible cars in the world, getting zero emission vehicles and low carbon vehicles on the road, replacing the current technologies.
"We need to be ready as that shift takes place around the world and we expect that this [Vancouver] is going to be one of the hotspots for electric vehicles to be implemented." he added. "Once they hit the mass market, which it literally within the months ahead, we expect a lot of change, and we're working hard to ensure we have the right infrastructure to charge all these electric vehicles."
Over the coming months EasyPark will be collecting information and listening to customer feedback about the EV charging stations to make sure they have the best systems in place. EasyPark Chair Lynn Kennedy expressed her company's enthusiasm about being involvement in the project, "We think this is a terrific initiative and we're so pleased to be part of it."
The first two publicly accessible EV charging stations in Vancouver are located in the EasyPark parking lot #57, immediately south of the City Hall at Yukon and West 10thAvenue.
The cost for charging your vehicle while parked at an EV charging station will be $1 per hour. Locations for the initial EV charging stations can be found at the City of Vancouver's Sustainability website, along with more information about the City's goals for going electric,http://vancouver.ca/sustainability/electric_vehicles.htm#1 .
The charging stations will be Level II (240 volts) Electric Vehicle Supply Equipment (EVSE)2
EVSE refers to a charging system protocol designed to provide a standardized platform for safe, convenient charging of electric vehicles. The protocol is intended to simplify the charging process so that it will be easy for users and eliminate the need to be concerned with various things such as having compatible equipment, fire hazards, over or undercharging issues, and so on. EVSE provides two way communication between chargers and vehicles with automatic control and regulation of safety while charging.
Numerous organizations are participating with City of Vancouver in developing a network of clean transportation options in the city, from vehicle manufacturers to courier services including, Modo Car Coop, Novex Couriers, Toyota, Mitsubishi, Eaton Canada, Leviton, Rapid Electric Vehicles, Powertech Labs, BC Hydro, EasyPark, and Nissan.