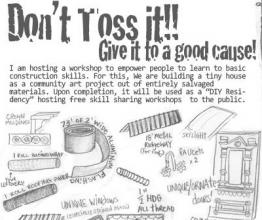 My name is Zee Kesler and I am building a tiny house! And you can too!
I am in the beginning stages of planning a tiny house building workshop this summer as a 2 part community art project/workshop. The house will be made from entirely salvaged materials with the help of a team(that's you)!  
Upon competition, the house will be used as a "Maker Residency" ie: a sort of all encompassing creative community space offering free workshops to the public in all things DIY.
Have you ever wanted to learn to build?
I know I would love to have more 'useful' skills, so this is why I decided to host a workshop, to share skills and get people together!
Over the past few years, I have worked with the Parks Board, the Vancouver International Children's Festival and Vancouver Mini Maker Faire to create participatory projects and installations for kids, families and communities. At some point I realized, "hmm... maybe I should learn more about construction," because I don't want anyone to get hurt!
Although I do not plan to personally instruct this course, I wanted to gain more practical building skills so that I could help out with the workshop as much as possible. I started researching free construction programs and internships available in Vancouver, and came across a program run by Tradeworks BC. Tradeworks BC offers a few programs for women, the one I am participating in is a ten week trades program starting in December.
In the mean time, I am starting to collect materials! Do you want to help?
Or do you have any lying around?
Let me know!
I am part of the Vancouver tiny house meetup group, if you would like to help me collect supplies or spread the word by talking to construction workers, demolition crew etc. If you come to one of these meetups, I can give you a stack of handouts!
For more info visit my personal blog: http://www.zeekesler.com/#!blog/chde