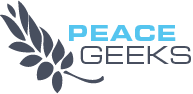 Where can you find find a bunch of code Superheroes on a Sunday afternoon in Vancouver?
Chances are they're at the Hive - Vancouver's co-working space for amplifying the local social impact sector.  This weekend was no exception as the offices were a hub of passionate creative enterprise with teams rallying to hack their way to peace around the globe.
Organized by Peace Geeks, Random Hacks of Kindness 2015 ( RHoK4Peace Hackathon ) brought together developers and coders from some of Vancouver's top technology volunteering their time on projects including:
- An SMS App for Reporting on Sexual Violence in Kenya
- An SMS App for Reporting Conflict Violence in South Sudan
- Improving Services Advisor web app for Syrian Refugees in Jordan
- A website for Aid Watch Palestine
- Site Rebuild for Random Hacks of Kindness
- Upgrades to the open source Amani website platform
- Social Media Strategy for Countering Conflict Violence
- Monitoring Nigeria's Governor & State Assembly Elections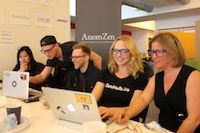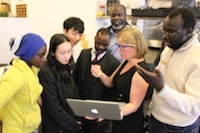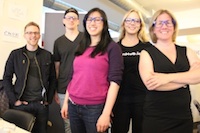 Teams were comprised of on-location members and those connecting remotely via the internet. While many teams were in attendance at the Hive, there were at least two teams; the RHoK Website and the Nigerian Election Monitoring, whose members were largely participating remotely from various locations. 
Former residents of the Nuba Mountains/ South Kordofan (The Southern part of Northern Sudan) were also in attendance looking for tools that could be used in their community "to teach people how to practice peace".
Working on the UN High Commission for Refugees (UNHCR) Jordan project, Luke Kysow (also a Software developer for Hootesuite) shared the teams methodology for increasing performance of the site while bringing the UX vision to life. The UNHCR Jordan Project team was using Leaflet An Open-Source JavaScript Library for Mobile-Friendly Interactive Maps http://leafletjs.com/
Founder & Executive Director of Peace Geeks, Renee Black says "RHoK4Peace is all about leveraging the passion and talent of skilled volunteer developers, designers and communications gurus to make a meaningful difference on projects that advance social change. Its also a great opportunity to really connect people to global issues so they can see for themselves the difference they can make in the world."
The RHoK website received a number of upgrades over the weekend - to increase users experience when visiting the website and to facilitate the the hosting a bi-annual global hackathon, to take place in early June. Speaking about this year's (2015) event, Black went on to say "our goals for this this year were to make a lot more progress with our teams, and to make the event even more sustainable". Black says she was able to achieve both objectives by focusing on building traction for existing organizational partners, and through further development of the open source Peace Geeks "Amani" platform which allows non-profits to get their own website in no time and next to zero cost.  
For more information on Amani or to build a website for a non-profit in need visit: http://www.projectamani.org/ 
Sponsors kept the teams fueled up on the 30 hour Hackathon with breakfast, lunch, dinner, and Hacker Yoga to de-stress and Zen the mind. Presenting sponsors included; Axiom Zen, LUSH, SalesForce and Active State, as well as community sponsors; The Hive, Coal Harbour, Ethical Bean, Nature's Path, RISE Kombucha, Choices, Eastwood Cycles, FreshBowl, Nuba and Briden! 
 
(UNHCR) Jordan project team member, and Axiom Zen's Marketing Manager Paige Paquette said; "We were so excited to co-host this hackathon. The tech industry has a knack for coming together and making innovative things, but rarely is it for such a good cause. What really brought it home for me was when I saw a prototype created by Amy Ngai, one of our designers at Axiom Zen. She designed an app that would help people in conflict-affected countries locate humanitarian aid. To imagine it being used by someone soon was just amazing." 
For more on participant perspective read Paige Paquette's Axiom Zen blog: http://axioms.io/zen/2015-04-07-random-hacks-of-kindness
For more information or to register for the next event visit: www.rhok.org
PROJECTS SUPPORTED BY PEACE GEEKS ---------------------------------------------------------------
The following edited project notes are supplied courtesy of Peace Geeks:
Organization: The Nakuru Gender Based Violence Network (NGBV) is a coalition of grassroots non-profit organizations based in Nakuru county in Kenya who work towards two key goals: strengthening service provision to those affected by sexual and gender based violence in Nakuru County, Kenya, and; strengthening coordination and collaboration among service providers in Nakuru towards providing more effective support. 
The NGBV network wishes to collect reports from network members on services provided by members to individuals affected by sexual and gender-based violence (SGBV). This central repository will help regional service providers and local authorities to gain a picture of the scale and nature of SGBV in Nakuru county. Network members also wish to understand where individuals seeking services drop off in terms of getting treatment, towards address systemic issues that prevent women from continuing to seek treatment and support towards responding to and recovering from SGBV.
Organization: Community Empowerment for Progress (South Sudan)
CEPO's mission is to strengthen and promote the capacity and capability of society members towards strengthening peace in South Sudan, including through peacebuilding and conflict mitigation, governance and democratic transformation, rule of law, human rights protection, and livelihoods. 
Since January 2015, CEPO has been recording incidents of violence around South Sudan related to the country's on-going civil war through a crisis map, using PeaceGeeks' Amani platform. CEPO wishes to allow South Sudanese citizens, and particularly youth, to be able to submit SMS messages to CEPO about incidents they witness in their communities regarding conflict violence. 
References on Social Media Violence in South Sudan
Movie about messaging around bringing two conflicting sides to the table
Organization: United Nations High Commission for Refugees (Jordan)
The agency is mandated to lead and coordinate international action to protect refugees and resolve refugee problems worldwide. Its primary purpose is to safeguard the rights and well-being of refugees. It strives to ensure that everyone can exercise the right to seek asylum and find safe refuge in another State, with the option to return home voluntarily, integrate locally or to resettle in a third country. It also has a mandate to help stateless people. In more than six decades, the agency has helped tens of millions of people restart their lives. Today, a staff of some 8,600 people in more than 125 countries continues to help some 33.9 million persons.
PeaceGeeks, in collaboration with the UN High Commission for Refugees (UNHCR), has developed a mobile app to help Syrian refugees living in Jordan to improve their ability to find humanitarian services available to them. The current tool is not an app, but rather a websites that works on mobile devices. We would like to turn Services Advisor into an Amani We also are aware that the user experience for this app could be improved, and the app optimized to take less time to load upon opening the site.
Organization: Aid Watch Palestine (Palestine
In the current aid system, no one is held accountable for international aid provided to Palestine. Aid Watch Palestine is a new but fast growing initiative of Palestinian and international civil society actors in Gaza, the West Bank and around the world that aims to change that by putting a spotlight on aid and monitoring changes to aid regularly. To this end, AWP aims to collect and disseminate information about current aid, identify missing information so that it can be collected, facilitate analysis of aid information, and make this information available and accessible to Palestinians, aid actors and others who care about making sure that aid to Palestine helps and is made accountable to Palestinians.
Partner Organization: Random Hacks of Kindness (Global)
Random Hacks of Kindness (RHoK) is a community of developers, geeks and tech-savvy do-gooders around the world, working to develop software solutions that respond to the challenges facing humanity today. RHoK events are run by hundreds of local community partners worldwide, along with the private sector organizations, government, civil society and academic sectors.
PeaceGeeks (Canada) 
PeaceGeeks is a global non-profit volunteer organization that builds the technological, communications and management capacities of grassroots organizations working on the promotion of peace, accountability and human rights.
While PeaceGeeks has attracted a lot of support since inception in October 2011, the PeaceGeeks team is conscious that our current site is confusing and academic, and that our messaging does not leave audiences with a clear understanding of what we do and how we create impact. PeaceGeeks is re-designing and re-launching its website on the Amani platform this spring to reflect our new brand and new storytelling style towards making PeaceGeeks projects and work more accessible to key audiences, including our partner organizations, our donors and our volunteers. 
Organizations: Fontaine-Isoko (Burundi), Lac Ecotouristique du Lac Ogoueme (Gabon), Aid Watch Palestine (Palestine), Isis-WICCE (Uganda), PeaceGeeks (Canada), Global Network of Women Peacebuilders (Global), Digital Humanitarians Network (Global), Young Women Entrepreneurs Kenya (Kenya), Foundation for Women Affected by Conflict (Uganda), Women and Children's Empowerment Network Africa (Uganda), Women's NGO Secretariat of Liberia (Liberia), Women's Peace Initiative (Cameroon), Coalition for Action (Uganda), Nakuru Gender-Based Violence Network (Kenya), Rural Women Peace Link (Kenya)
Over 14 of PeaceGeeks partners currently have websites that are on the Amani platform, an open source, Drupal-based framework (installation profile) to assist with the rapid deployment of websites. The goal of Amani is to cover 90% or more of the needs of most grassroots non-profits.
Partner Organization: Connected Development (Nigeria)
Connected Development [CODE] is a non government organization whose mission is to improve access to information and empower local communities in Africa. They strengthen local communities by creating platforms for dialogue, enabling informed debate, and building capacities of marginalized communities which will bring about social and economic progress within communities, while promoting transparency and accountability.
In Nigeria, elections have emerged as key opportunities for citizens to express their preferences and to reward or replace their leaders. A peaceful and enabling environment therefore will be essential towards the success of the national electoral body - Independent National Electoral Commission (INEC) 's delivery of credible polls, which will further promote the continuing emergence of Nigeria as a stable, democratic nation, especially as the country has recently witnessed insecurity issues and has been posing threat to the development of Nigeria and bilateral relationships with international partners.
Achieving sustainable peace is a priority for INEC to conduct successful elections in Nigeria. With Connected Development [CODE] accredited as an observer group for the 2015 elections in the country, we aim to develop a tool [UZABE] to address the unique challenges that might arise in the pre, during and post election period. "Zabe" means election in Hausa Nigeria Language.
Uzabe will be used to create report on the opening, accreditation, voting and counting processes during election day while establishing early warning systems for vulnerable communities and strengthening emergency response during violence.