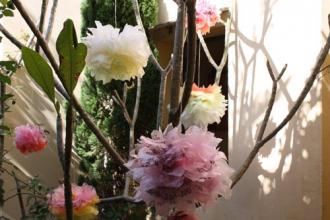 This post is based on a blog post by Tali Buchler. 
Making flowers out of used plastic bags is a great way to entertain kids and develop their creativity, while teaching them the value of recycling and caring about the environment. Plastic bags can be substituted by tissue paper. The flowers can be used to decorate rooms in the house or to "color up" bare trees on sunny days. 
Materials:
used plastic bags (the noisy kind). Each flower requires 10-12 single sheets of nylon (5-6 plastic bags)
scissors
pipe cleaner
string
Instructions:
1. Flatten all plastic bags, pile them one on top of the other, and smooth them straight.  If you have different size bags, organize them by size. 
2. Trim handles and bottom of bags. You should have the bags as tubes now, stretch them out and keep them flat.
3. Trim sides, so you have single sheets.
4. Fold the sheets of nylon stacked on top of each other like an accordion. 
5. Twist the pipe cleaner over the center of the accordion; you may make a small loop at the end of the pipe cleaner so you can tie a string to it.
6. Trim both ends into either a pointy shape or a curved shape as desired. 
7. Fan out the ends into a butterfly shape.
8. Open up the flower by peeling each layer separately. Do the same on both sides.
9. Fluff the layers of nylon to get a full and puffy flower. Give it a little hair cut if needed.
Furthermore....
Depending on the plastic bags you have, you may make nice color combination.
The flowers are great for outdoors (on sunny days) as well as indoors
An easy and inexpensive solution for a birthday decoration
If you make them smaller, you may use the pipe cleaner that ties the flowers as the stem. 
You can add a touch of perfume to them to enhance the experience.
Good luck!
Coral